Women's Day Royals
Meghan Markle and Prince Harry are encouraging others to "unleash a groundswell of real acts of compassion" ahead of International Women's Day.
Just a week and a half after Buckingham Palace confirmed that the couple will not return as working members of the royal family, Meghan and Prince Harry have updated their non-profit website on the first day of Women's History Month. The new page on the Archewell Foundation site shares ideas how to mark the March 8 holiday.
"Women Deserve Recognition — and also Support," reads the page's headline.
"We know the world is asking more and more of women every day — as wage earners, leaders, educators, carers, and more," it continues. "In recognition of International Women's Day, let's unleash a groundswell of real acts of compassion for the women in your life and in your community."
Get the premiere issue of PEOPLE Royals for glamorous new photos and inside stories royals fans haven't seen or read elsewhere! Subscribe at peopleroyals.com/launch
RELATED: Oprah Tells Pregnant Meghan Markle and Prince Harry 'You've Said Shocking Things Here' in Sit-Down Interview First Look
Suggestions include everything from donating to local maternity wards and food kitchens to ordering from a women-run restaurant or helping a family member sign up for the COVID-19 vaccine.
The recommendations even include simple gestures like checking in with a loved one.
"From work to family care, many of us are juggling a lot at the moment," the suggestion says. "Asking something as simple as 'Are you OK?' can go a long way." The question echoes back to Meghan and Harry's documentary with ITV's Tom Bradby, made during their 2019 tour of Africa.
"I guess, also thank you for asking because not many people have asked if I'm okay, but it's a very real thing to be going through behind the scenes," Meghan said in speaking about adapting to life as a new mom in addition to pressures of being in the spotlight.
The Duke and Duchess of Sussex will be participating in and taking a number of these actions themselves throughout the month and are hopeful to see families and communities everywhere join together to unleash compassion, one action at a time.
Last year, Meghan observed International Women's Day by visiting the Robert Clack Upper School in the east London town of Dagenham during her and Prince Harry's final round of royal engagements in the U.K. She spoke to 700 students, who range in age from 11 to 18, about a variety of women's issues that she has taken on in her work.
"When we thought about what I wanted to do for International Women's Day this year, for me it was incredibly important to be with the women of our future," Meghan, 39, said in her speech. "And that is all of the young women here, as well as the young men who play a very large part in this. Specifically coming to your school made a lot of sense for me because of this social justice and the impact that it's rooted in."
Meghan has a long history of honoring International Women's Day. While pregnant with son Archie in 2019, she spoke on a special panel hosted by King's College London.
In 2018, Meghan and husband Prince Harry stepped out in Birmingham and joined a social enterprise event, where young women were taking part in a variety of activities designed to boost recognition of science, technology, engineering and math-based education and jobs.
Back in 2015, Meghan gave an impassioned speech at a UN Women's conference in New York in which she talked about gender equality.
"I am proud to be a woman and a feminist, and this evening I am extremely proud to stand before you on this significant day, which serves as a reminder to all of us of how far we've come, but also amid celebration a reminder of the road ahead," she said.
RELATED: Gayle King on Oprah Winfrey's Sit-Down with Meghan Markle, Prince Harry: 'Best Interview She's Ever Done'
The new International Women's Day page on the Archewell Foundation website follows another update made over the weekend. When the couple relaunched the website at the end of the year, they shared two childhood photos with their mothers on the site's homepage. Now, the homepage features a photo of Meghan and Harry wearing masks while volunteering.
"Compassion in action," reads a new message on the site. "Welcome to Archewell. Through our non-profit work, as well as creative activations, we drive systemic cultural change across all communities, one act of compassion at a time."
Meghan and Harry — who are expecting their second child — previously asserted their commitment to public service after Queen Elizabeth announced they wouldn't be returning as working royals.
"Following conversations with The Duke, The Queen has written confirming that in stepping away from the work of The Royal Family it is not possible to continue with the responsibilities and duties that come with a life of public service," the palace statement said.
As part of stepping down, they will no longer keep their patronages (their royal involvement with numerous U.K. charities).
In response, Harry and Meghan pushed back, saying in a statement: "We can all live a life of service. Service is universal."
Heartfelt Royal Speech in Honor of International Women's Day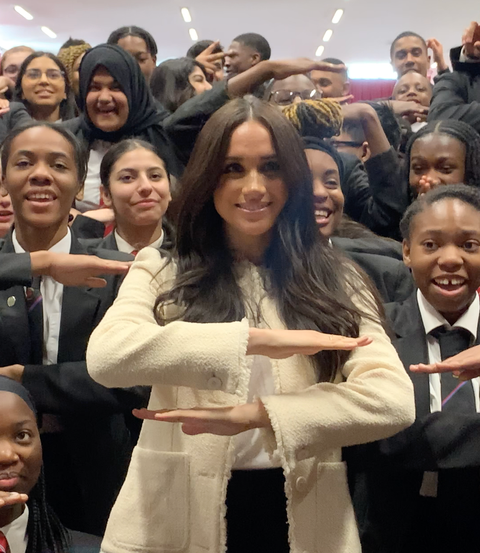 THE DUKE AND DUCHESS OF SUSSEX
Meghan Markle spoke out on gender equality long before she joined the royal family. And, as she and Harry prepare to leave behind their roles as working royals, she has made it clear that she will continue to use her platform to stand up for women and girls.
The Duchess of Sussex made a heartfelt speech at a school in east London on Friday, March 6, which has been released ahead of International Women's Day on Sunday, March 8. Addressing 700 students in the Robert Clack Upper School in Dagenham during a special assembly, Meghan told them: "No matter how small you might feel, how low you may feel on the ladder or the totem pole, no matter what color you are, no matter what gender you are—you have a voice, and you certainly have the right to speak up for what is right."
She continued, "What's really key for all of you to remember, is especially looking at the people who paved the way for you to get to this point in your lives to be able to have the access that you do—it's not just an opportunity to continue that, it's a responsibility."
The special assembly was being held to celebrate the achievements of the female sewing machinists from Dagenham's Ford Motor Plant who held a strike for equal pay in 1968 which triggered the passing of the UK's Equal Pay Act in 1970. Their stand for equality was documented in 2010 film Made in Dagenham, and some of the female workers who were involved in the strike were at the assembly. Meghan described the women as having "the strength to really stand up for something that they knew needed to be done."
She began her speech by saying, "When we thought about what I wanted to do for International Women's Day this year, for me it was incredibly important to be with the women of our future. And that is all of the young women here, as well as the young men who play a very large part in this. Specifically coming to your school made a lot of sense for me because of this social justice and the impact that it's rooted in."
The Duchess invited a man from the audience to come and say what he though the importance of International Women's Day was, and 16-year-old Aker Okoye rose to the challenge. Afterward, Meghan told him: "Well done. Very well said, and incredible confidence—don't you all agree?"
She continued, "I think that is the point, in many societies it doesn't matter where you are, it's very easy to sometimes compartmentalize or silo this idea of International Women's Day solely being about women—but it's not—it's about all of us."
She also told the young people, "For young men, to continue to value and appreciate the women in your lives, and also set the example for some men who are not seeing it that same way. You have your mothers, sisters, girlfriends, friends in your life—protect them. Make sure that they are feeling valued and safe. Let's all rally together to make International Women's Day something that is not just on Sunday—but frankly, feels like every day of the year."