Father's Day is a chance to celebrate, spend time with, and simply cherish one of the most special men in your life. But truthfully, no sentimental moment is complete without a little bit of laughter to lighten the mood—and if your dad is anything like ours, he appreciates the best dad jokes. That's why we've rounded up a bunch of Father's Day cards to make your old man laugh out loud. After the card has been selected, you should head over to our Father's Day gift guide and first Father's Day gifts for a little something he can unwrap. If funds are shot this year, you could also make a free Father's Day card that will make him feel just as special. Now, what to write inside your brilliantly funny and thoughtful Father's Day Card? We've rounded up the best quotes about dads too.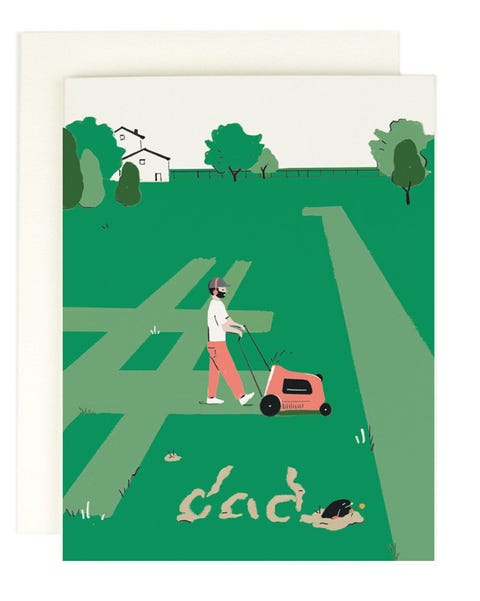 If you love your dad so much you want to shout it from the rooftops, you may consider writing it on the front lawn for all to see.
Father's Day Camping Trip Pop-Up Card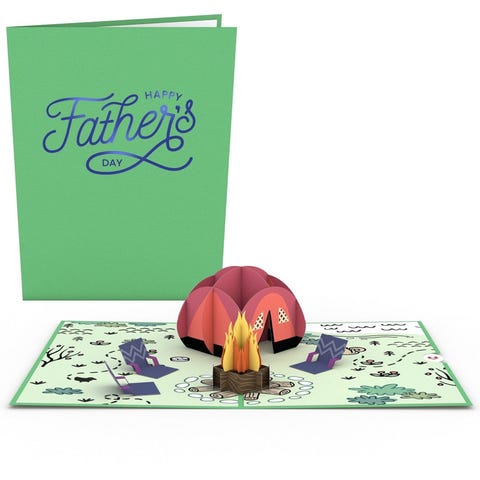 Bring back fond memories of family camping trips with this magical pop-up card from Love Pop.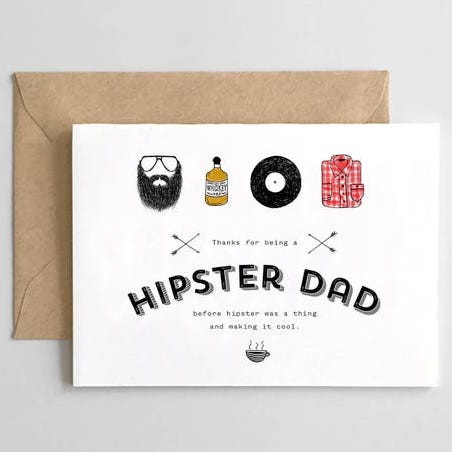 ETSY / SPAGHETTIMEATBALLS
Has your dad always been sporting a beard and spinning records? He will appreciate being recognized as the original hipster.
King of the Grill Pop-up Card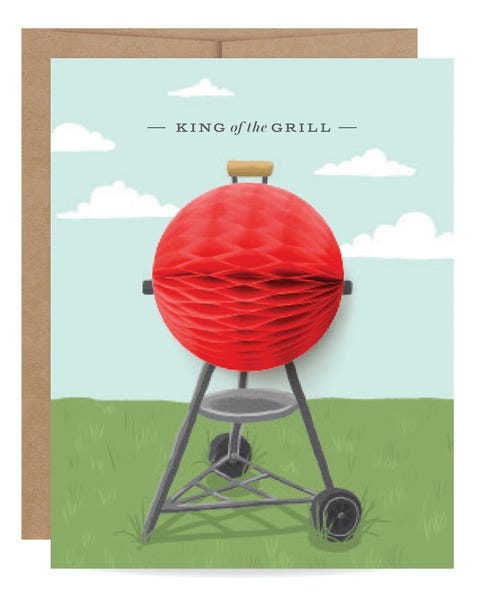 Does the grill master stereotype fit your dad exactly? Gift him this 3D card that showcases one of his favorite hobbies.
Dad Strength Tester Father's Day Card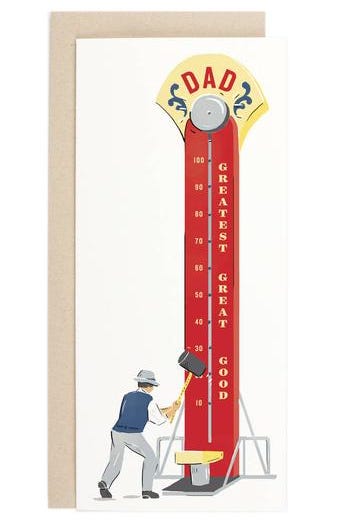 Show him how strongly you feel about him.
'You're The Best Pop' Card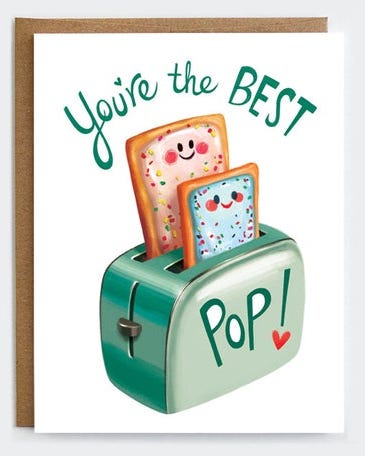 All dads love a food pun. This card features a cute illustrated Pop Tart.
BESTSELLER
Father's Footsteps Card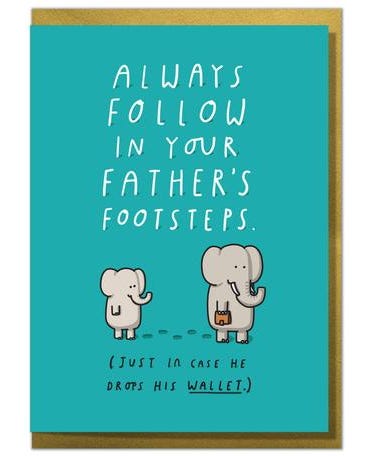 ETSY / MUNGOANDSHODDYSTORE
"Just in case he drops his wallet," is the hidden ending to the wise words on the front of this funny card. It's both adorable and hilarious.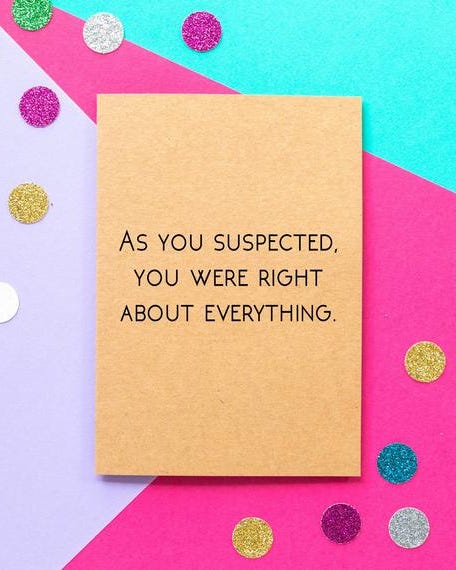 He'll probably puff up proudly at this one. Honestly, you owe it to him.
'Love You Even More' Father's Day Card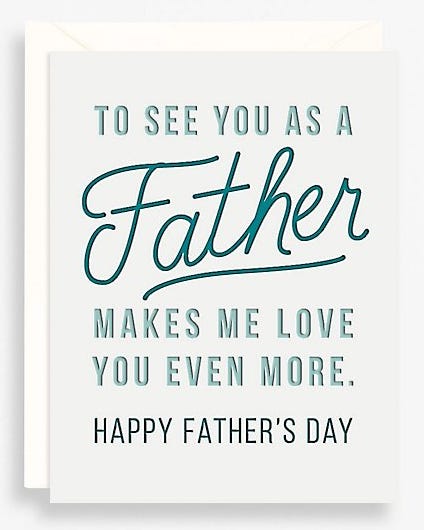 Is your husband celebrating his first Father's Day? This card may be a total tearjerker.
Fintastic Dad Father's Day Card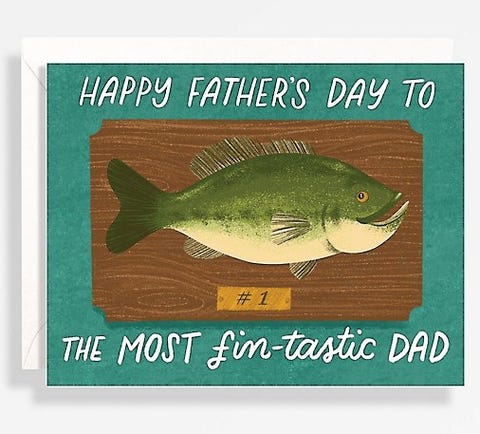 For the dad who loves to spend the day on the lake fishing.
'Grape Job Raisin Me' Card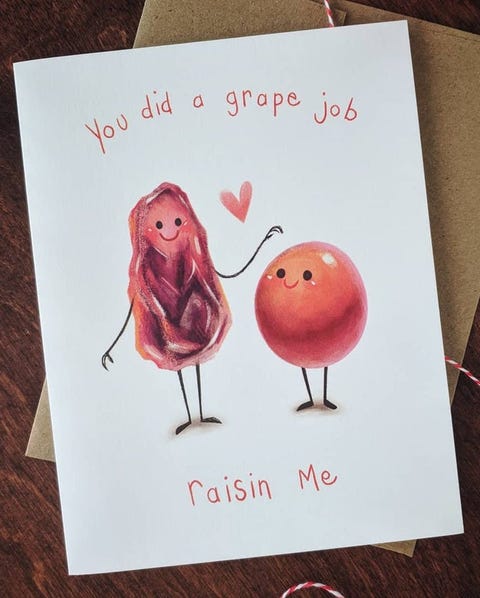 Another clever food pun! Hopefully your dad won't be too offended to be portrayed as a wrinkly raisin.
'Dad, King of Our Castle' Card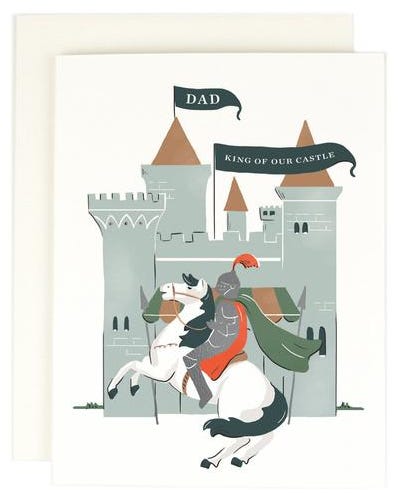 Crown your father the king of the castle with this whimsical greeting card.
Here's one for the grill master! Although no true meat lover would ever prepare a well-done steak, this card is still guaranteed to make him chuckle.
'You Are a Great Dad' Card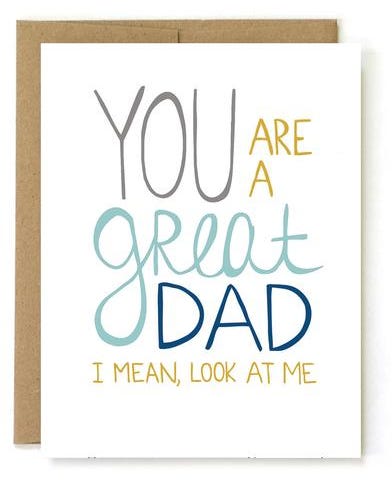 What better proof do you need that your dad's a great father than a simple glance at his own offspring? That's the idea behind this cheeky card.
COOL DESIGN
'Dad Jokes' Letterpress Father's Day Card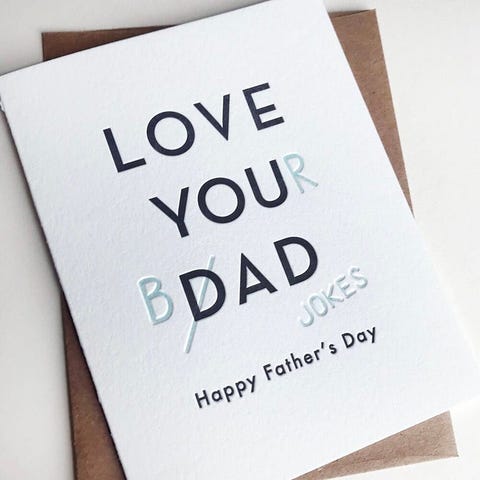 It may look like this card says, "Love You Dad," at first glance. But actually, a neat letterpress design offers a second meaning: "Love your bad jokes."
'On Dad's Shoulders' Card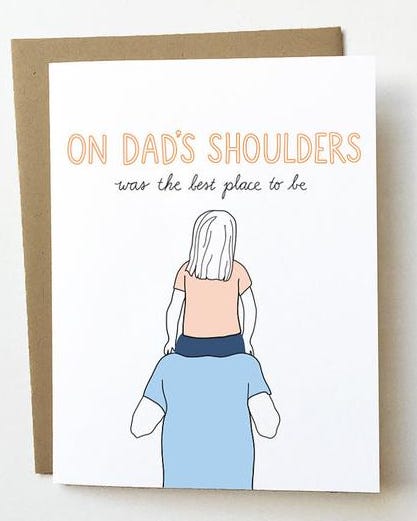 Sometimes, straightforward sentimentality is the best approach. For the more serious dad, we'd suggest this card.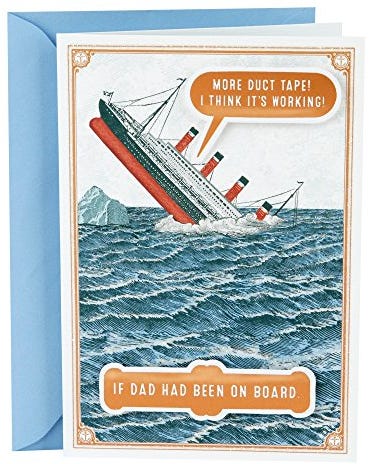 AMAZON / HALLMARK SHOEBOX
This one had us laughing out loud.
'So Happy I'm Y'orchid' Card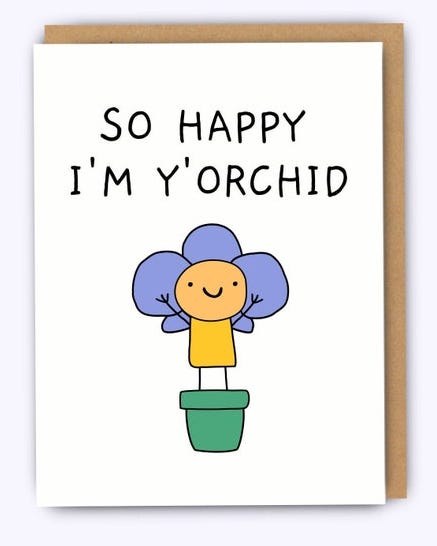 We never met a pun we didn't like.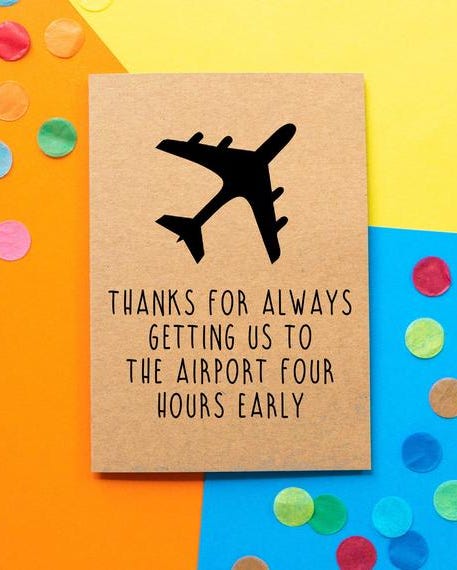 This was always one of his greatest strengths.
'Perfect Child' Father's Day Card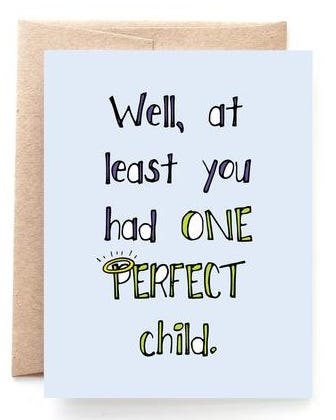 ETSY / YELLOWDAISYPAPERCO
It's not like you need to remind him, but—what the heck? You're perfect!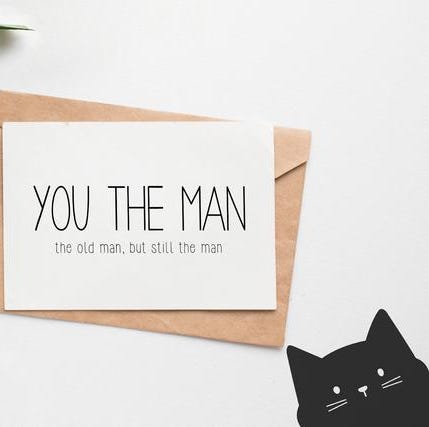 Remind him he's never too old to be the coolest guy in the room.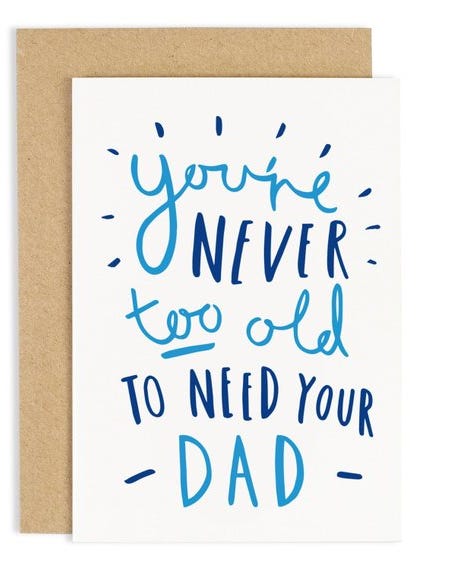 We couldn't help but include a little bit of sentimentality in the midst of all the fun here.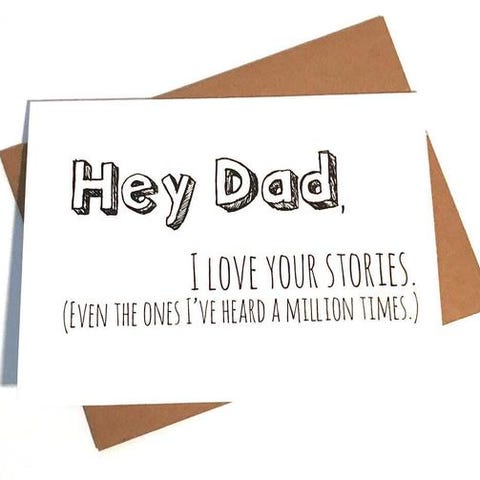 Simple, sweet, and with only a touch of sass, this card is perfect for just about any dad.
More Father's Day Cards That Dad Will Love
Instead of giving Dad a store-bought greeting card this Father's Day, show him what he means to you by creating a one-of-a-kind note just for him. Whether your dad is a joke fiend, has a passion for fashion, or is a sucker for sentimentality, there is a unique DIY card out there for him. Start your search with some of the charming projects below to find the perfect one for your favorite guy.
 

Clever Printables

 Shari's Berries

Printing your own adorable designs for Dad's card is a quick and simple way to say "I love you." These printables from Shari's Berries are filled with puns any dad is sure to love. Find quality blank cardstock at your local craft store, then glue your printed design onto the paper for a cute card he's sure to save for years to come.

Fun Father's Day Cards for Dad from Shari's Berries

 

Tractor Footprint Card

 Things, Tings, and Chicken Wings!

If you have little ones, this simple craft from the blog Things, Tings, and Chicken Wings is for you. Paint-stamped footprints that morph into the likeness of a tractor make every card a meaningful and one-of-a-kind gift to treasure.

Tractor Footprint Card from Things, Tings, and Chicken Wings

 

Necktie Card

 SheKnows

Fathers and neckties go hand-in-hand, as it's a fashion accessory most dads have worn at some point (maybe even every day!). This project from SheKnows allows you or your child to design the ultimate tie for their Dad. If this card isn't your style, there are a few other cute shirt-focused crafts to choose from in this tutorial, like a superhero uniform.

Necktie Card from SheKnows

 

Wallet Card

 Little Leaf Lane

Make a replica of your pop's wallet with this handy DIY project from Little Leaf Lane. When he looks inside, he'll find cool detailing and an adorable message from his number one creative child. You can even add multiple pockets to hold special notes from each sibling.

Wallet Card from Little Leaf Lane

 

Golf Ball Card

 Crafty Morning

This card from Crafty Morning is kid-friendly and utilizes white fingerpaint to make the shape of a golf ball. Complete this sporty card with a real golf tee and a punny greeting, like "Have a ball this Father's Day." You can even tuck in a voucher for a round of golf that Dad can redeem any time he wants to hit the green.

Golf Ball Card from Crafty Morning

 

Rock n' Roll Card

 FamilyFun Magazine

Let's face it: everybody loves some good tunes. This template from FamilyFun magazine will show you how to make this DIY record player card, the perfect Father's Day card for a dad that likes to jam to some oldies. A few supplies and some crafting concentration will show your dad a rockin' good time.

Rock n' Roll Card from FamilyFun Magazine

 

Superhero Card

 Kaminski's Creations

Show Dad just how super he is with this adorable hero-inspired card tutorial from Kaminski's Creations. This craft uses Cricut templates, but you can easily follow along using hand cut-outs if you don't have a machine of your own.

Superhero Card from Kaminski's Creations

 

Watercolor Ribbon Card

 Every Tuesday

Add a personal touch to your Father's Day card with a combination of hand-lettering and watercolor paint. This tutorial from Every Tuesday (which is complete with an instructional video and free templates), makes this DIY creative card an easy feat. You may just surprise yourself with your artistic skills.

Watercolor Ribbon Card from Every Tuesday

 

Daddy-Daughter Card

 Rafashionably Late

This project from Refashionably Late requires a top-notch crafting tool, the Cricut. By using different colored cardstock and the product's templates, you can create this beautiful and unique Father's Day card from daughter to Daddy.

Daddy-Daughter Card from Refashionably Late

 

Watercolor Card

 Kristina Werner

It's time to pull out that old watercolor set and put it to good use with this simple-yet-adorable Father's Day card. This tutorial from Kristina Werner Design is complete with a video that shows you how to use a few basic supplies to make this beautiful and thoughtful piece of artwork.

Watercolor Card from Kristina Werner Design

 

Fish Handprint Card

 Kix

You can easily find all the supplies you need for this DIY ocean-inspired card from Kix at the craft store—and you may even already have what's needed at home! Using paint, craft paper, and your little one's hand, make a collage of an underwater scene, complete with a father and son clownfish. Just add your own personal message to customize it.

Fish Handprint Card from Kix Cereal

 

Fill-in-the-Blank Card

 The Handcrafted Story

This printable from The Handcrafted Story can be used year after year, making it a fun way to see your child's growth in handwriting, vocabulary, and creativity as they fill in the blanks and draw pictures. Print this card on heavy cardstock paper to make sure it lasts through future Father's Days.

Fill-in-the-Blank Card from The Handcrafted Story

 

Pop-Up Card

 Creative Pop Up Cards

Video tutorials make everything easier, and this craft from Creative Pop Up Cards is no different. Anyone can flex their card-making muscles by crafting this DIY pop-up card for Dad this year. He's sure to be impressed by your scissor skills.

Pop-Up Card from Creative Pop Up Cards

 

Galaxy Card

 Kristina Werner

This Father's Day card looks professionally made, but anyone can pull it off using the detailed instructions provided by Kristina Werner Designs and a few artsy tools. There's no way Dad won't display this out-of-this-world piece on the fridge.

Galaxy Card from Kristina Werner Designs

 

Tool Box Gift Card Holder

 Paper Mill Direct

Gift cards are a great present for those dads who seem to have everything. Instead of handing it over in a simple sleeve, make this cool toolbox holder from Paper Mill Direct to kick your gift up a notch. You can cut the tool shapes out yourself or use an automated cutting machine to make this Father's Day craft easier.