One of the best Father's Day activities is sitting down and sharing a homemade dinner or delicious Father's Day brunch. And if your father has a sweet tooth, he will appreciate if you have a dessert recipe ready to go on June 19. You can't go wrong with what you decide to make for Dad on his special day, but a homemade cake is a classic that won't disappoint. Not to mention, there are so many simple Father's Day cake recipes and decorating ideas you can try, even if you are a novice baker.
But before you throw on an apron and preheat the oven, you have to pick the perfect recipe for Dad. You can opt for a basic sheet cake or a more elaborate tiered cake. Whichever recipe you choose, just remember to make sure it's packed with Dad's favorite flavors, whether that's chocolate, vanilla, or something a little more adventurous. From there, you can have fun frosting the cake and adding unique designs or toppers. The best part? These homemade cake recipe ideas double as dessert and a Father's Day gift for your dad, grandpa, uncle or any other important man in your life — especially if you waited until the last minute to come up with a present.
Cannoli Cake
If Dad's dessert of choice is a fresh cannoli, give him the best of both worlds on Father's Day with this cake decorated with mini chocolate chips, shelled pistachios, and crushed cannoli shells.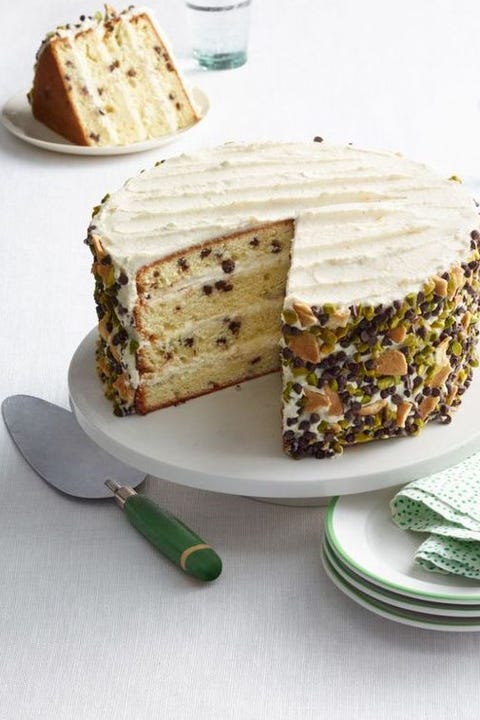 Beach Cake
Perhaps you and the family have a beach day on the docket for Father's Day 2022. Whether that's part of the plan or not, Dad will certainly smile when he sees this detail-orientated cake appear on the kitchen counter — or beach blanket.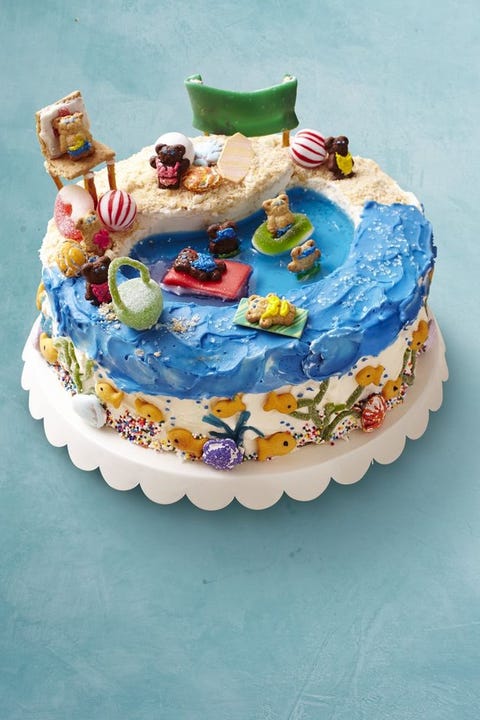 Chocolate-Speckled Angel Cake
Your classic angel food cake gets an upgrade with chopped bittersweet chocolate and orange zest. Replicate our design by breaking up a chocolate bar and placing the pieces on top.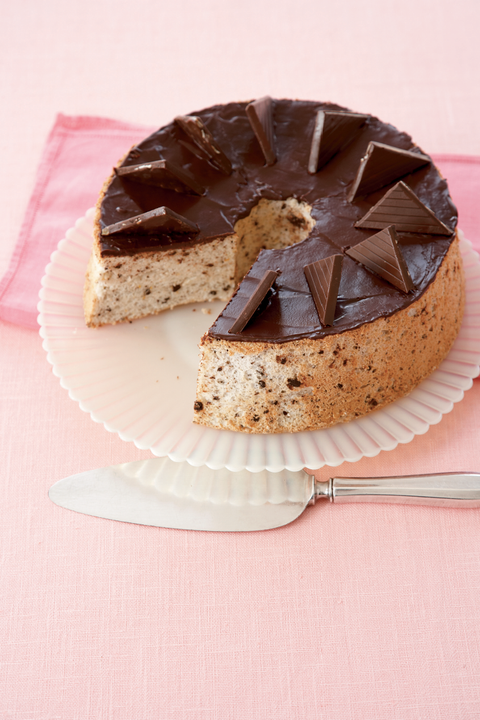 Mini Lemon-Blueberry Bundt Cakes
You can do four mini cakes or one large cake with our recipe. Either way, each bite will be filled with refreshing lemon and blueberry flavors and a sweet pinch of sugar drizzle.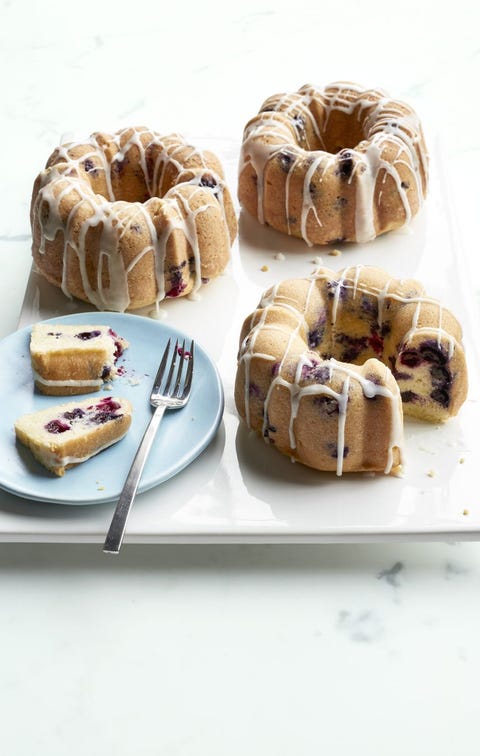 Forest Friends Cake
This might look complicated, but it's really not. After making three cakes, use buttercream to frost and candy and cookies to create their little faces. Too much? Try your hand at just one of these forest friends.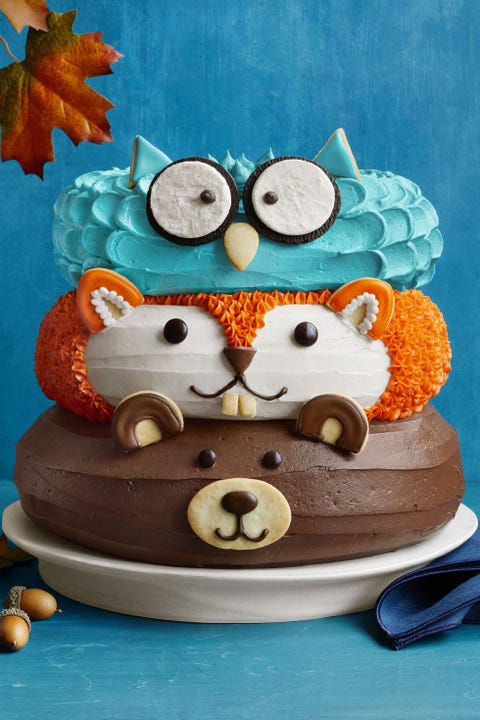 Oatmeal-Brownie Bundt Cake
If Dad loves chocolate, this is the cake for him. Rolled oats and semisweet chocolate come together to a create a tender and delicious cake that's also gluten-free.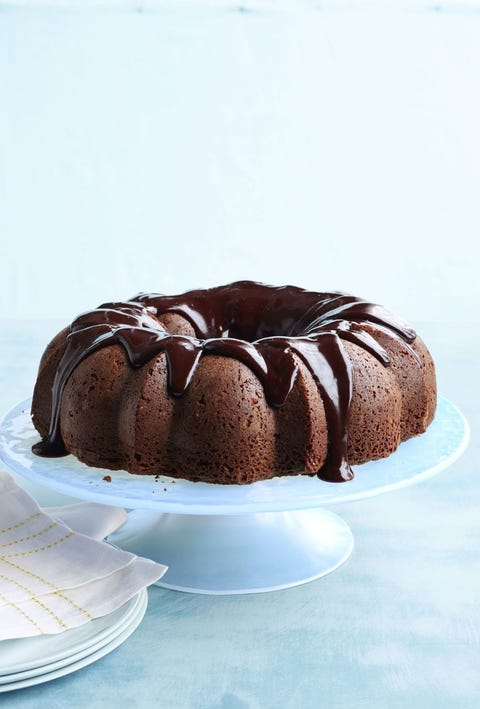 Pumpkin Spice Cake
Pumpkin spice isn't just for the fall months. Use it to make our out-of-this-world cake that has layers cushioned with pumpkin cream-cheese frosting.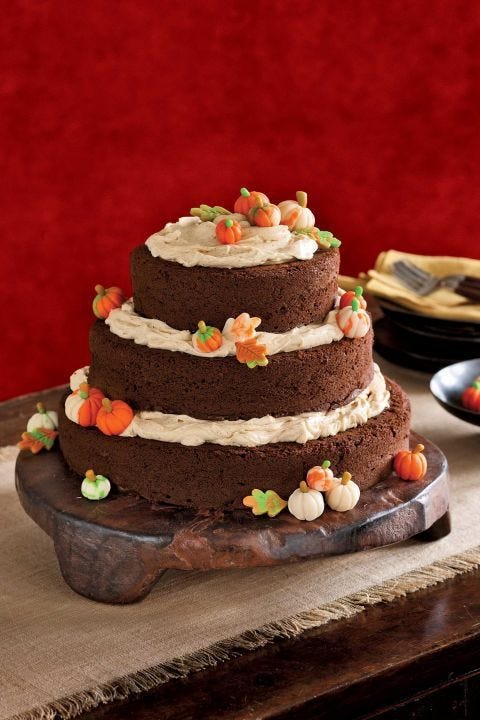 Classic Vanilla Sheet Cake
This easy cake recipe makes a terrific base for whatever decorating idea you dream up. Switch up cookie cutter shapes and sprinkle colors to suit Dad's favorite colors and hobbies.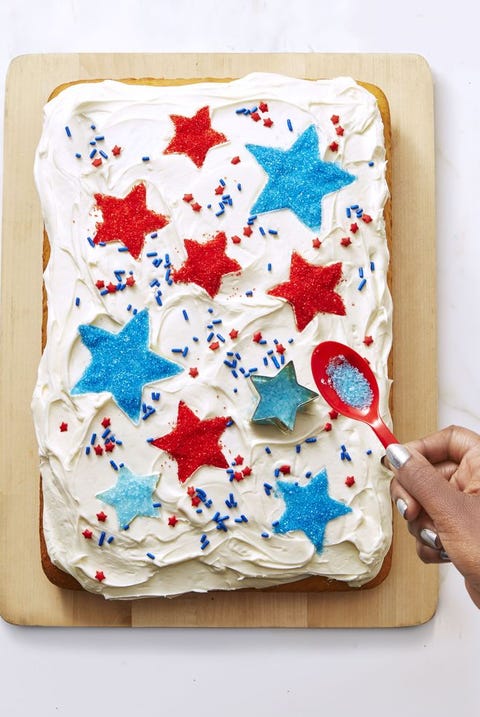 Olive Oil Clementine Cake
Top this sweet cake with EVOO and candied clementines for the perfect end to Father's Day brunch.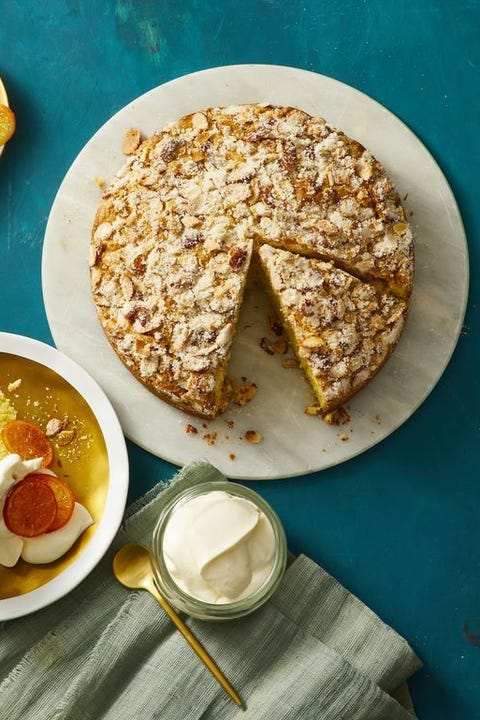 Chocolate Chip Triple-Decker Ice Cream Cake
National Ice Cream Cake Day also falls in June, so double down on the celebrations with a towering ice cream sandwich "cake."
Spiced Fruit Cake
Inspired by the spiced fruit cake handed out to voters in the 18th-century, this Bundt cake is a winning candidate for Father's Day.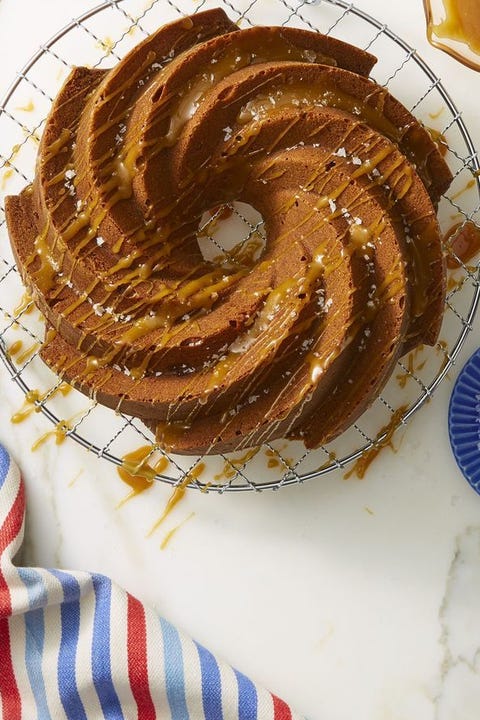 Coconut Cream Cake
This light and fluffy cake is a coconut lover's dream.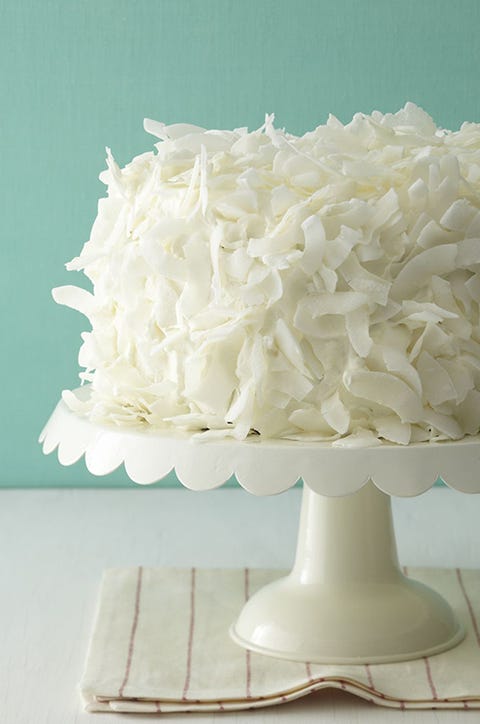 King Cake
Laissez les bons temps rouler (let the good times roll) on Father's Day by whipping up this Mardi Gras classic — it's delicious any time of the year!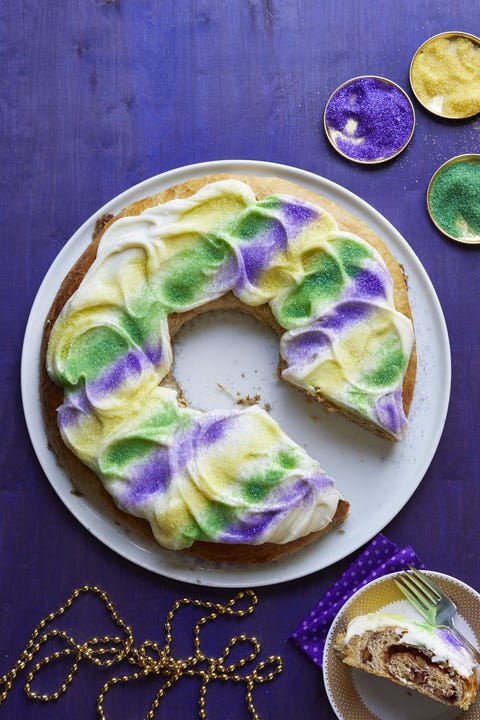 Thanksgiving Cake
If his favorite holiday is Thanksgiving, pay tribute with this layered cake featuring pumpkin, cranberry, and pecan flavors smothered in cream cheese frosting.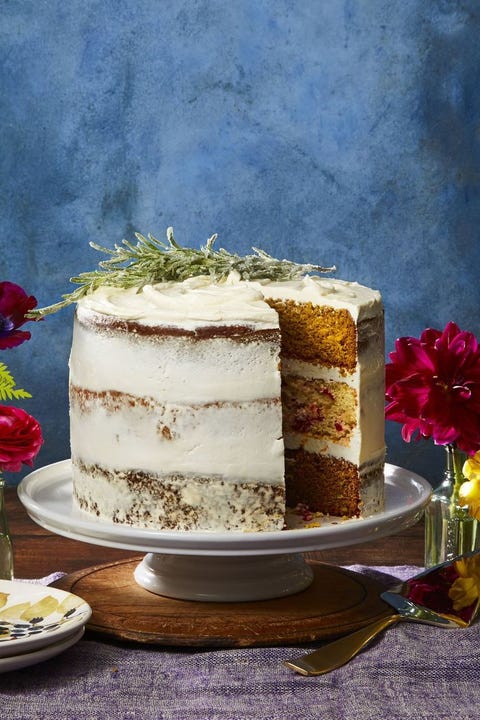 Peach-and-Plum Almond Cake
Dad doesn't like icing? Let him indulge in the fruity flavors of this frosting-free, moist, peach-and-plum almond cake.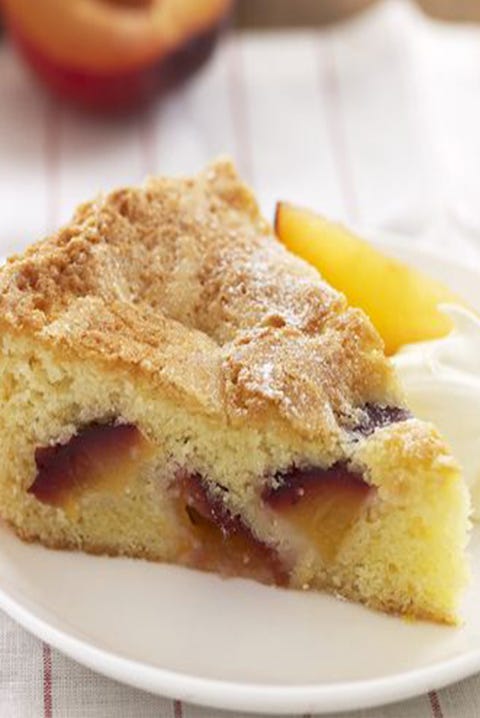 Lemon Poppy Seed Cake with Strawberries
If you want to do something more exciting than basic chocolate or vanilla, this lemon-flavored cake features strawberries and cream between the layers.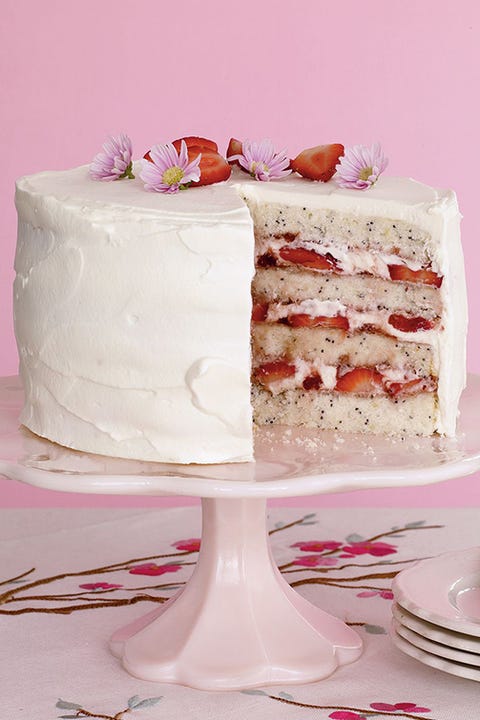 Baked Alaska
This decadent ice cream dessert uses lady fingers as a base and has a fresh meringue topping that's sure to impress Dad.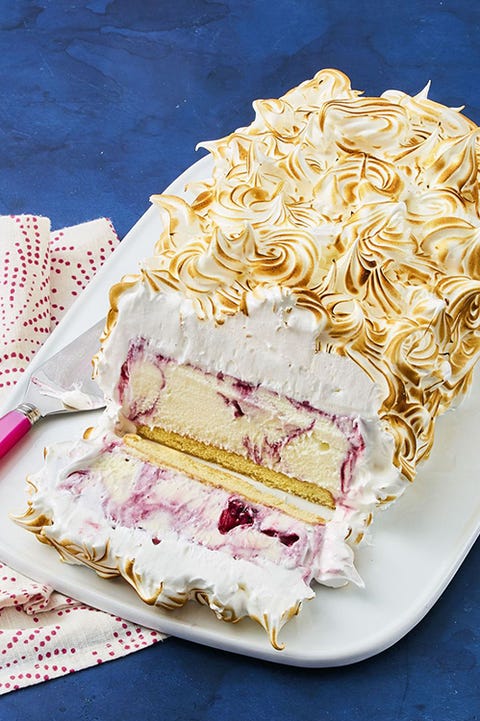 Lemon Blueberry Layer Cake
Sometimes, it's best to stick to something simple. This recipe is perfect for beginner bakers who want to whip up something easy but special.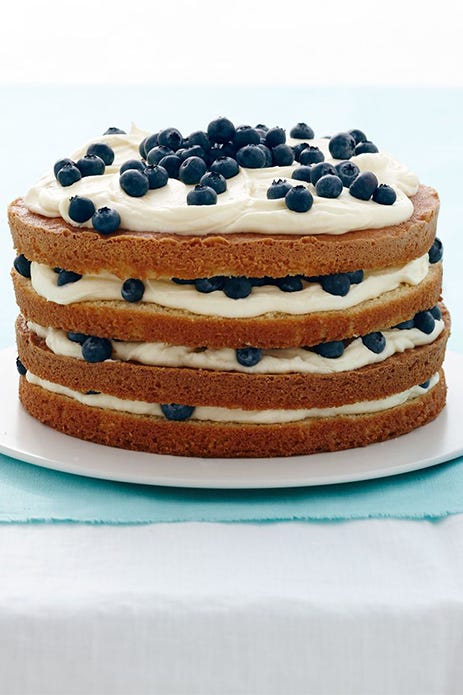 Rhubarb and Almond Upside-Down Cake
This delicious rhubarb and almond combo will have Dad asking for seconds.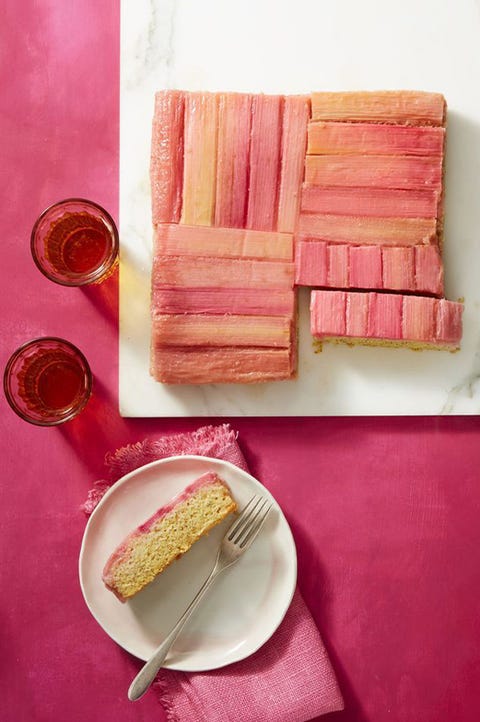 Chocolate Meringue Layer Cake
This cake only takes 45 minutes to make, so it's the perfect thing to whip up for a last-minute Father's Day treat.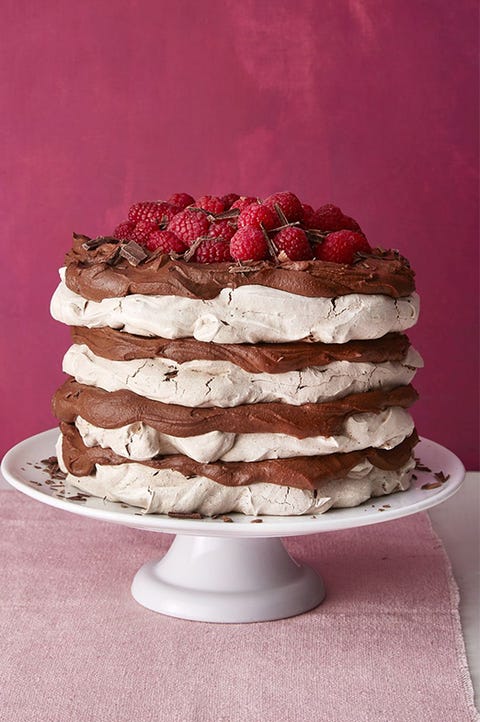 Strawberry Ice Cream Cheesecake
This no-bake ice cream cake is both delicious and refreshing.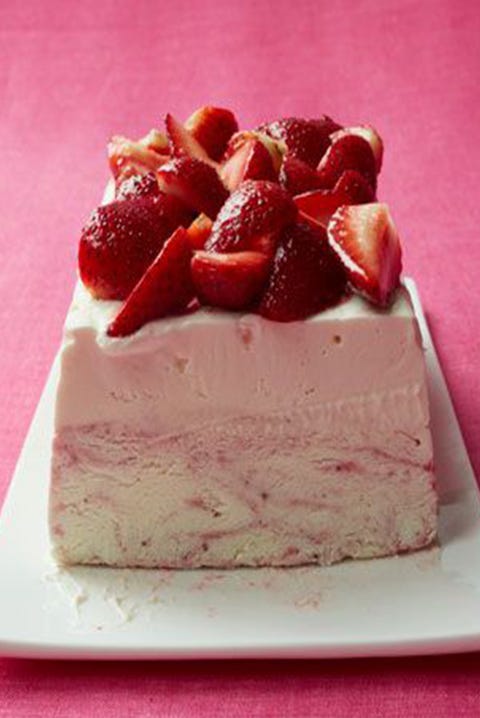 Hummingbird Cupcakes
Everyone loves cupcakes, and these pineapple ones are the perfect dessert for Father's Day.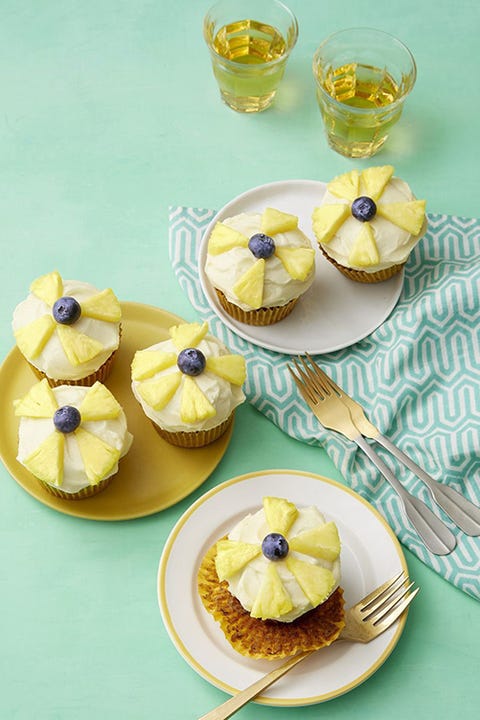 Lemon-Honey Cupcakes
Not only is there honey in the batter, but there's also honey in the icing, which creates a unique flavor Dad will love.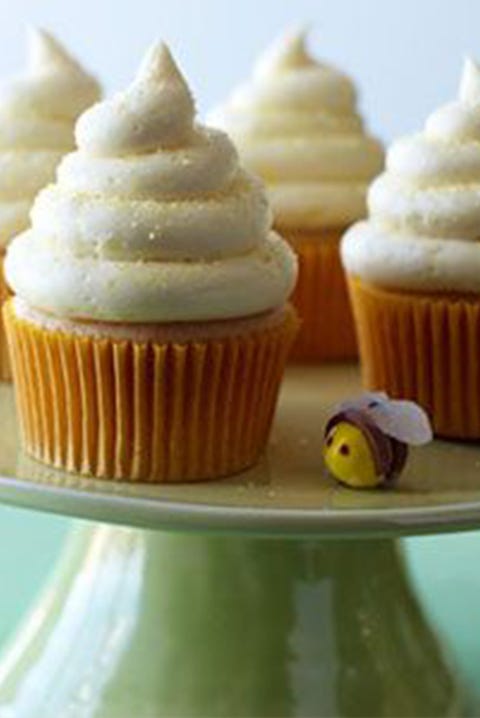 Carrot Cupcakes with Honey Cream Cheese
Carrot cake is always a good idea, especially when paired with a nice cup of coffee in the afternoon.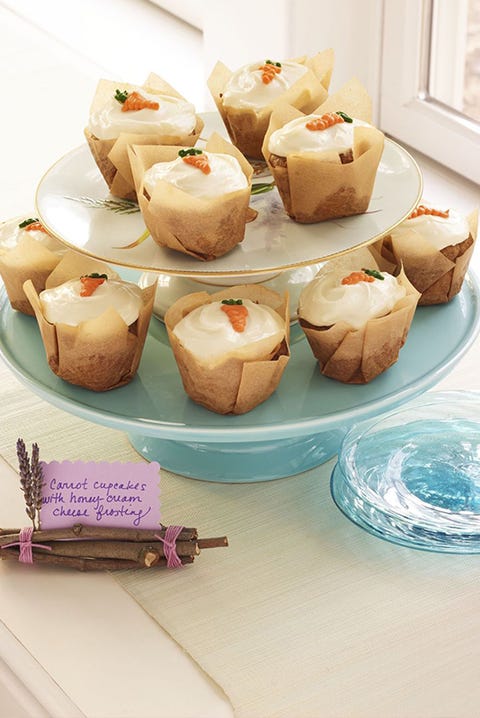 Mini Pineapple Upside-Down Cakes
These fruity cakes made with creamy coconut milk will have Dad feeling like he's on an island vacation.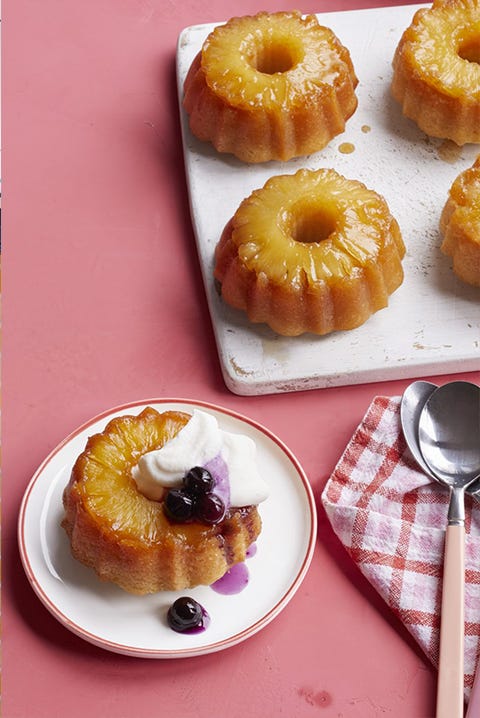 Strawberry Icebox Cake
Make this cake in advance so you can spend all day hanging out with Dad. It's best to make it four hours ahead so the graham crackers can soften, but overnight is great, too!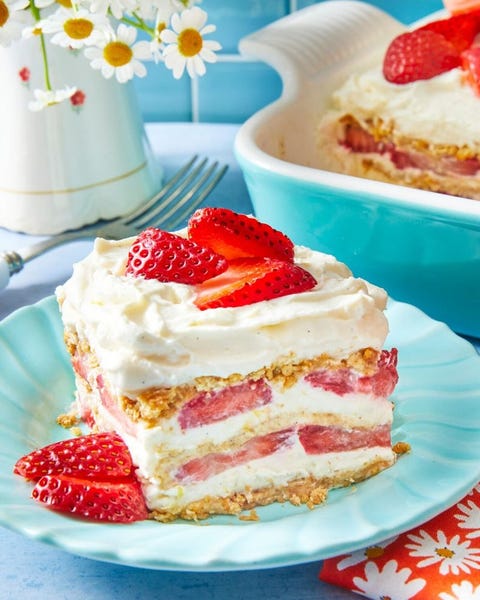 Apple Cake
If your dad is a fan of simple, comfort foods, he'll love this classic apple cake. It's delicious on its own or with a big dollop of whipped cream.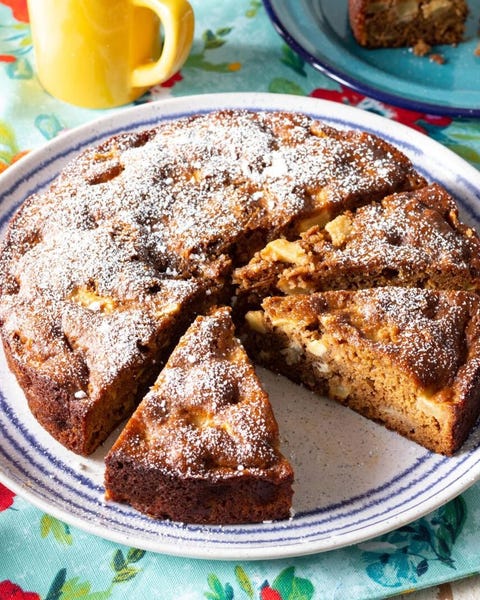 Mango Cheesecake
This no-bake dessert is fruity, creamy, and so easy to make. It's perfect for a hot Sunday afternoon.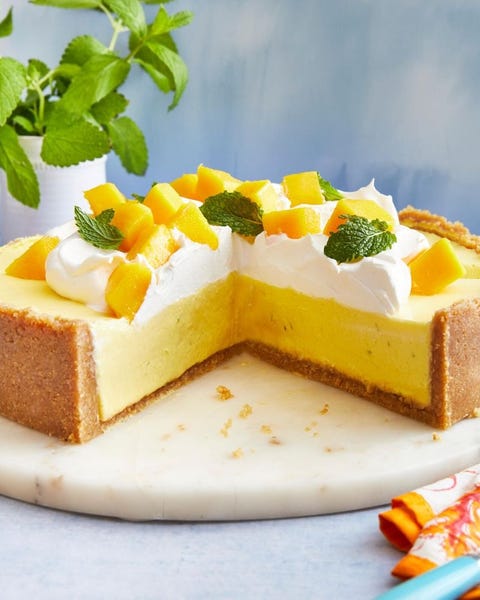 Confetti Snack Cake
For the dad who's a kid at heart, make this easy rainbow sprinkle sheet. It's sure to put a smile on his face.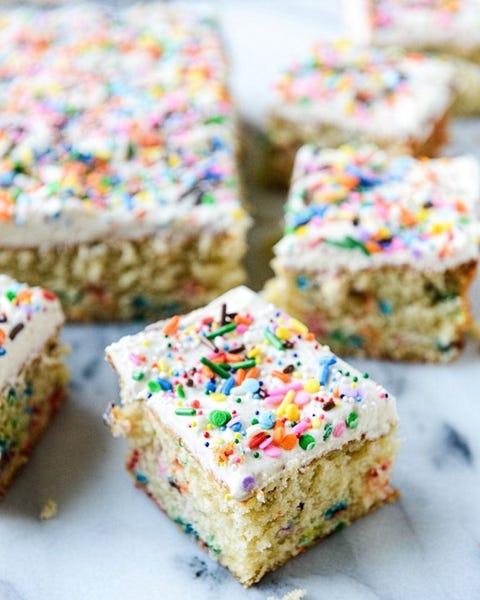 Hummingbird Cake
Warm spices and sweet pineapple make this cake oh so comforting. Don't worry about making the frosting perfect, you can always cover up any imperfections with a handful of pecans.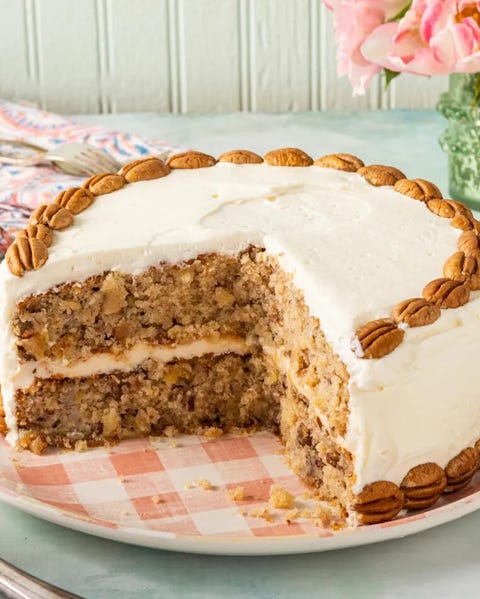 Chocolate Sheet Cake
Are you ready to try the best chocolate cake around? This crowd-pleasing sheet cake is a family favorite for the Drummonds so you know it's going to be hit.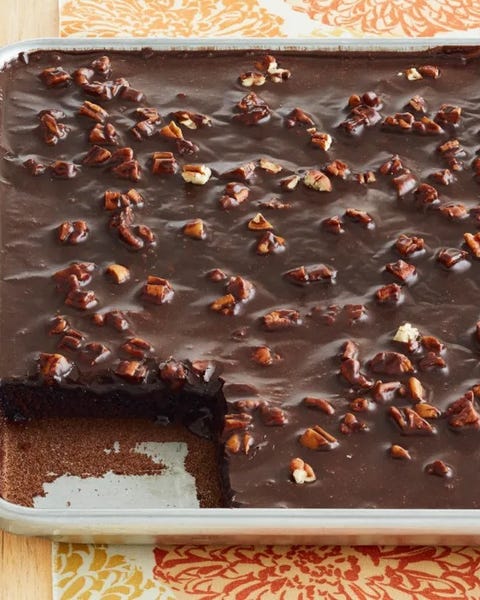 Peach Dump Cake
Syrupy peaches, tender cake, and crunchy almonds make this cake so irresistible. The only way to make it better would be to top it with a scoop of vanilla ice cream.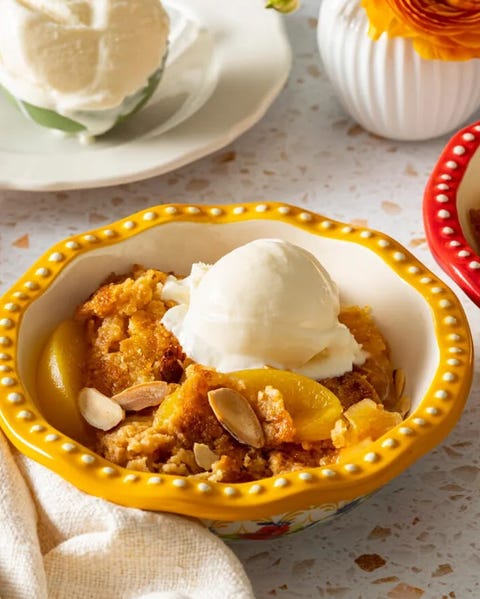 Chocolate Ganache Cake
Don't be fooled by the word "ganache." It might sound fancy but it's really just a mixture of heavy cream and chocolate chips that are melted together to form a luscious topping to this chocolate cake.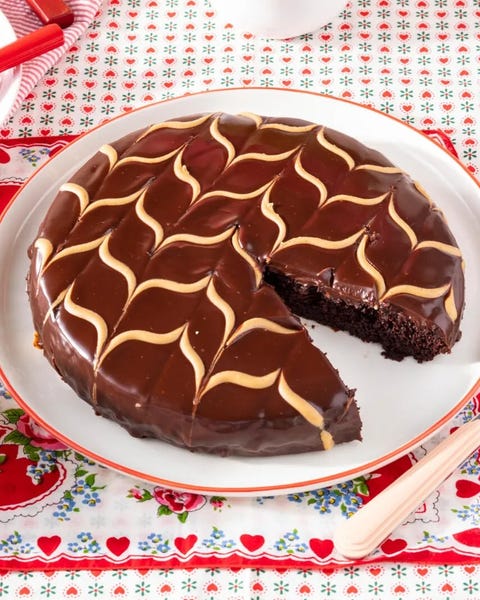 Apple Cake in an Iron Skillet
This apple cake is a great alternative to apple pie. It's loaded with fresh fruit and best served warm from the oven.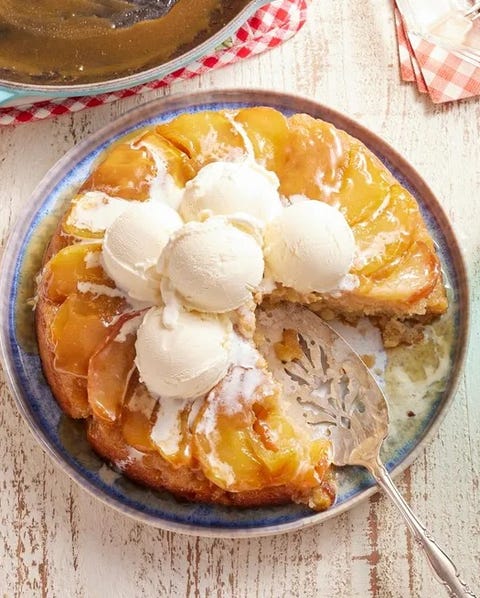 Key Lime Cakes in a Jar
Planning a picnic in the park for Dad? Surprise him with these adorable cakes served in jars. They're great for taking on-the-go!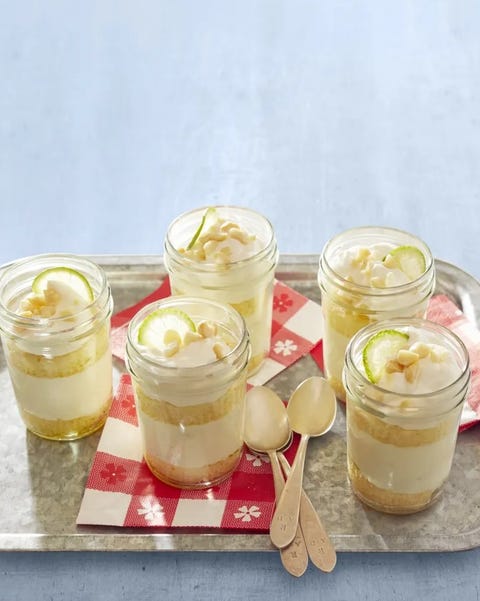 Carrot Cake
You can't go wrong with a classic carrot cake. This one can be made as a layer cake, sheet cake, or even a bundt cake.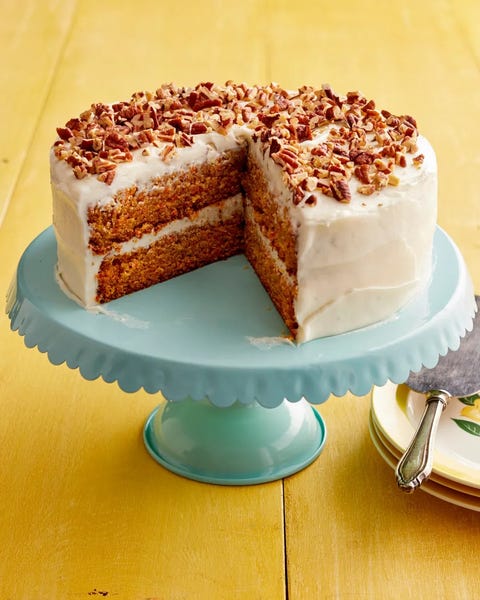 Ice Cream Cake
Pick from your father's favorite ice cream flavors to make this over-the-top cake. Just don't forget the cherries and whipped cream!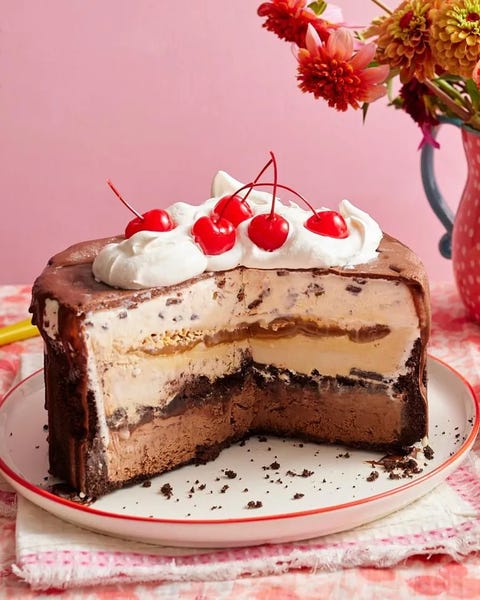 Blueberry Buckle
Not only is this cake bursting with fresh blueberries, but it has a crumbly coffee cake-like topping that's out-of-this-world good.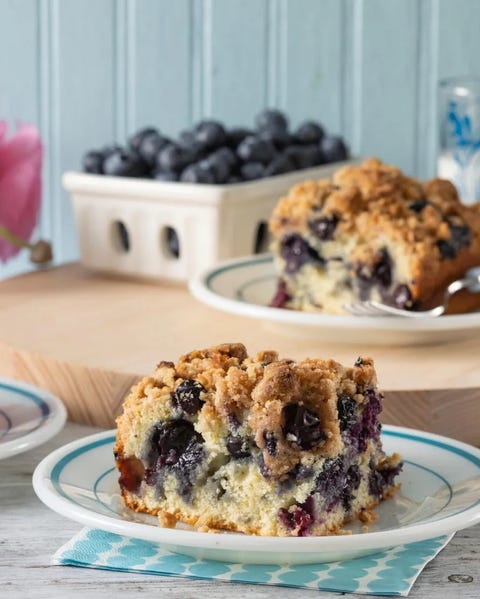 Mini Bundt Cakes
Each of the three glazes on these mini bundt cakes are delicious, but we're positive that Dad will love the maple-whiskey glaze!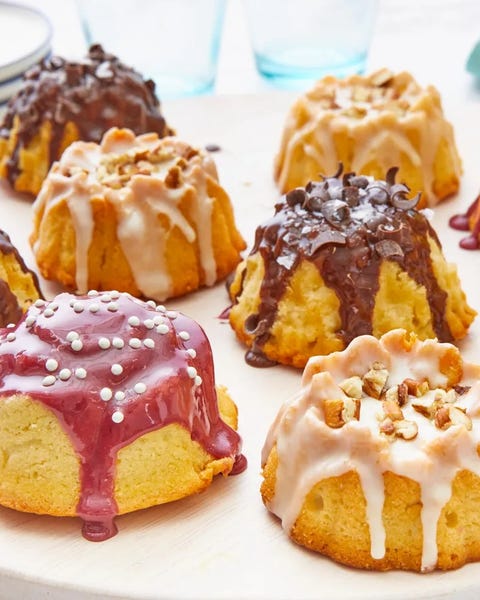 Peanut Butter Cheesecake
If your Dad loves salty-sweet desserts, this cheesecake is the perfect dessert! It has a creamy peanut butter filling, plus a crust made with chocolate cookies and cocktail peanuts!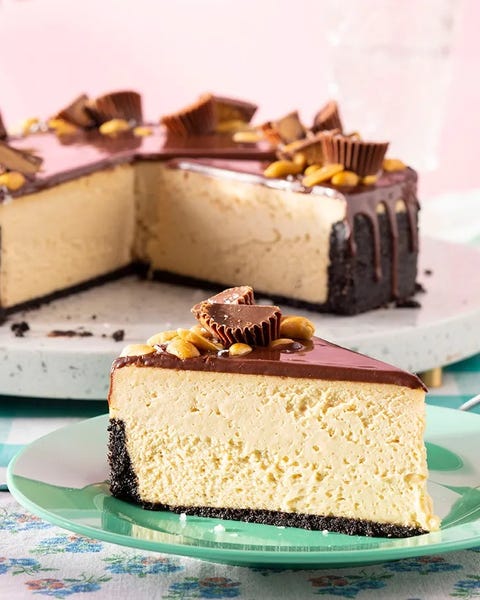 Chocolate Wacky Cake
This cake recipe is almost as wacky and wonderful as Dad himself! The whole thing is made in one pan, which means less cleanup and more time hanging out with family.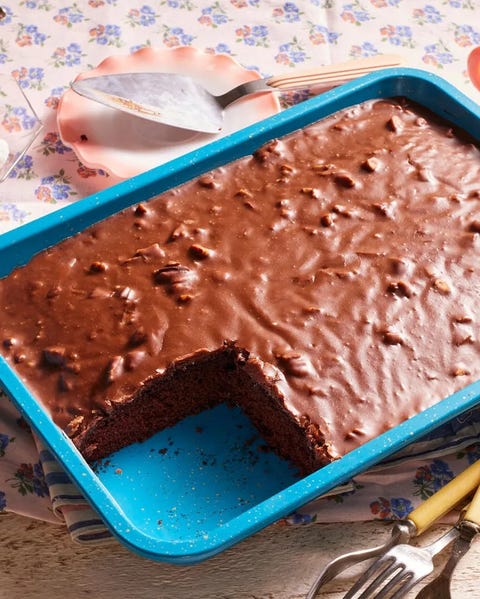 Lemon Cake
You'll brighten any guys' day with this citrusy lemon cake. The floral decoration is optional, but… hey, Dad's like flowers too!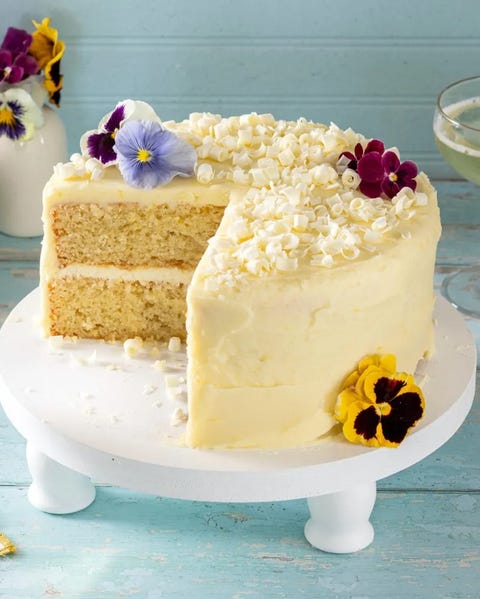 Tres Leches Cake
Here's a fun menu idea for Dad: make his favorite tacos followed by a tres leches cake! A margarita wouldn't hurt either.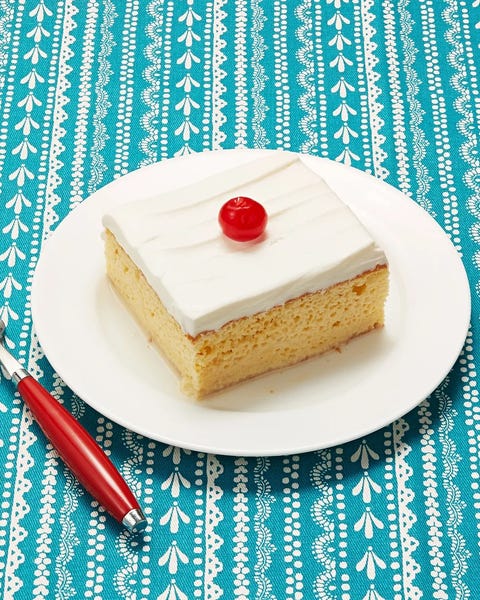 Lemon-Poppy Seed Cake
You can serve this cake on its own or add dollops of yogurt and fresh berries for a Father's Day brunch. Whatever you do, don't skimp on the delicious lemon glaze!
Coffee-Toffee Crunch Cake
Coffee-loving fathers will go crazy for this java-infused cake. Even the frosting is made with instant coffee granules.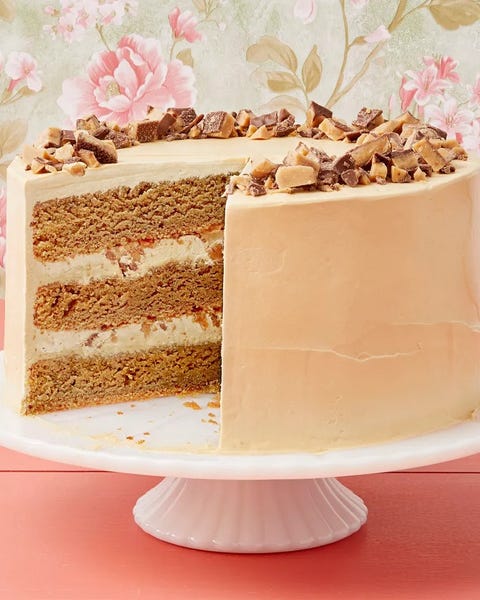 Blackberry Icebox Cake
After tossing a ball around with Dad, you'll likely want to cool down with something refreshing and chilled—like this icebox cake! It's perfect for making ahead.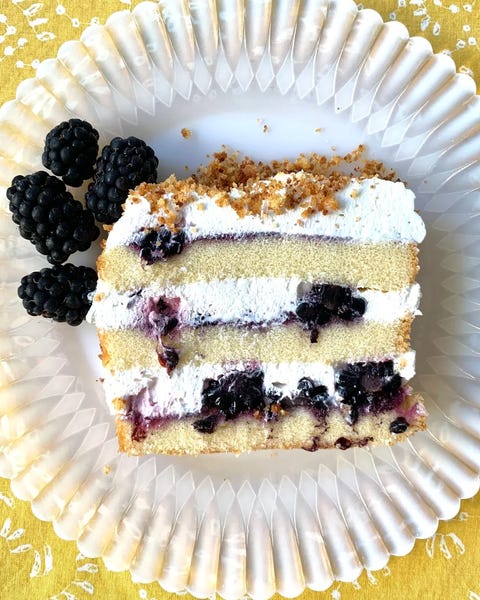 Coconut Layer Cake
This cake might look simple but it's loaded with tropical flavor. There's coconut extract in the cake batter and shredded coconut in the frosting.