Christmas Wishes for Mother: The biggest influence on a young man comes from his mother and mother-in-law. They both go the extra mile to make your life fun, hassle-free, and full of frisky vibes. When you have a mother and mother-in-law by your side, every day becomes an exciting and zingy celebration. Merry Christmas wishes for mother & Merry Christmas Messages for mother-in-law written beautifully and stated here will generously show them all your love, affection, and respect on this beautiful occasion.
Merry Christmas Wishes For Mother
Our family's successful Christmas festival celebrations would not be possible without my sweet mother. It was a scintillating and exciting Christmas thanks to you, mom. I wish you the happiest of holidays!
During the Christmas festival, people gather to celebrate and eat, give to the needy, and pray for the success and well-being of one another. Mother, you are the only one who gives and prays for everyone. Merry Christmas!
Christmas celebrations are incomplete without you. Even the most beautifully decorated tree will seem dull and dim without you. It is because of you that our Christmas celebrations are always more enjoyable. Merry Christmas to you, my sweet mommy!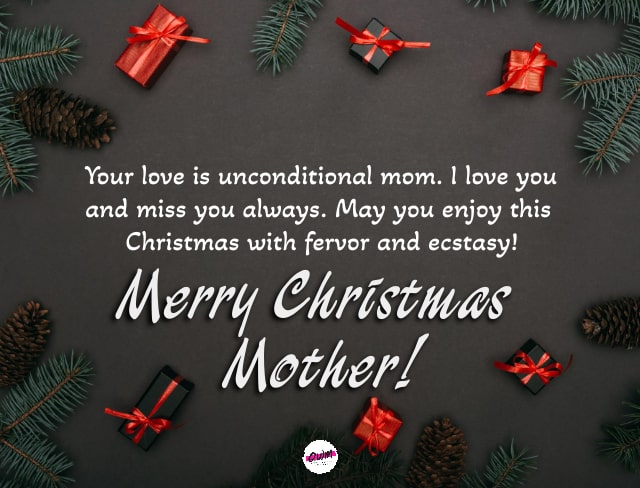 Mom, you are the one who stops me from doing quarrelsome things on Christmas yet you end up doing quirky things more than us. Thank you for all the sweet and savory memories. Merry Christmas, mother!
The sweets you made on Christmas are beyond delicious and unique. The decoration you do on Christmas makes our house looks beautiful manifold times. Basically, you are the soul of our happening Christmas celebration. Thank you & Merry Christmas mother!
Who needs a long wish list on Christmas when I have a mother like you who already fulfills everything even before I speak. You are the real-life Santa Claus for me, my mother. I wish you a joyous and peaceful Christmas celebration!
I never felt the need to celebrate the Christmas festival somewhere else because the kind of splendid arrangements you create on house to celebrate Christmas are unmatched. Thank you mother and happy Christmas!
As mighty Jesus Christ's mother is great, you are also great my mother. I wish you Merry Christmas and always a joyous prosperous life.
You are my world mother. May you never see a single drop of tear in your life! Merriest Christmas to you my beautiful mother!
Your love is unconditional mom. I love you and miss you always. May you enjoy this Christmas with fervor and ecstasy! Merry Christmas mother!
You are the epitome of strength mom to me. I wish you always be. Wishing you love and Merry Christmas!
Without you, everything I have, nothing is, mom. You are worth more than anything to me. I wish you Merriest Christmas!
May you be always beautiful and smiling mother! In your career front, you achieve everything I wish. Merry Christmas mother!
May you never fade mother! May nothing in your ever fade mother! Love you and wishing you happiest Merry Christmas!
Merry Christmas Wishes For Mother-In-Law
May the sweeter than sugar festival of Christmas fill your life with the sweetest possible things in existence. Merry Christmas to my beautiful mother-in-law!
Having a mother-in-law like you on my side is the biggest blessing of my life. You never let me felt the absence of my real mother by showering love, affection, and valuable guidance. Thank you, mother-in-law, and merry Christmas!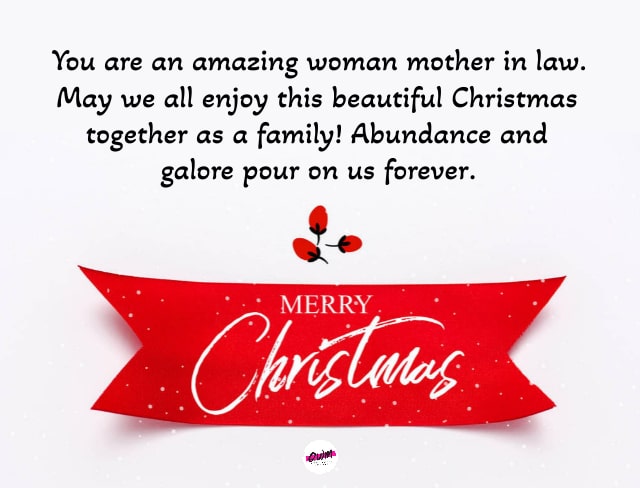 I clearly remember the moment you entered my life by giving the hands of your daughter in mine and changed it forever. You are the sweetest mother-in-law ever! Merry Christmas, mother-in-law.
May the all-powerful Jesus eliminates all the pain and troubles from your life and fill it with all the success, love, and peace you deserve. I wish you a happy Christmas, my beautiful mother-in-law!
Your mere presence adds innumerable stars and soothing glitter to our Christmas celebration. You are more than my own real mother to me. Thank you for all the love, affection, and support. Merry Christmas, mother-in-law!
To the loveliest and dearest mother-in-law, please accept my heartfelt Christmas wishes marinated in utmost respect, love, and concern for you. May you have the most pleasant Christmas celebration ever. Merry Christmas!
You are an amazing woman mother in law. May we all enjoy this beautiful Christmas together as a family! Abundance and galore pour on us forever. Merry Christmas!
I respect you a lot due to what you have achieved in your life. You have sheer strength mother in law. Wishing you Merry Christmas and healthy life!
I wish mother in law, that your blessings on us forever remain. And May Jesus Christ remove all obstacles from your life! Love from all and Merry Christmas!
You are much beautiful than your daughter! May you forever be at heart! I pray for your health and wishing Merry Christmas. May the night of Christmas change everything for you for better!
May you have the company of peace mother in law forever and friendship of truth in your life! Your presence in our family means a lot. Wishing Merry Christmas to you!
May your life without spikes and webs! May it shine and spread light in our life and others too! Merry Christmas mother in law!