Tony Montana Quotes
"Every day above ground is a good day."- Tony Montana
"You wanna fuck with me? Okay. You wannaplay rough? Okay. Say hello to my little friend!" – Tony Montana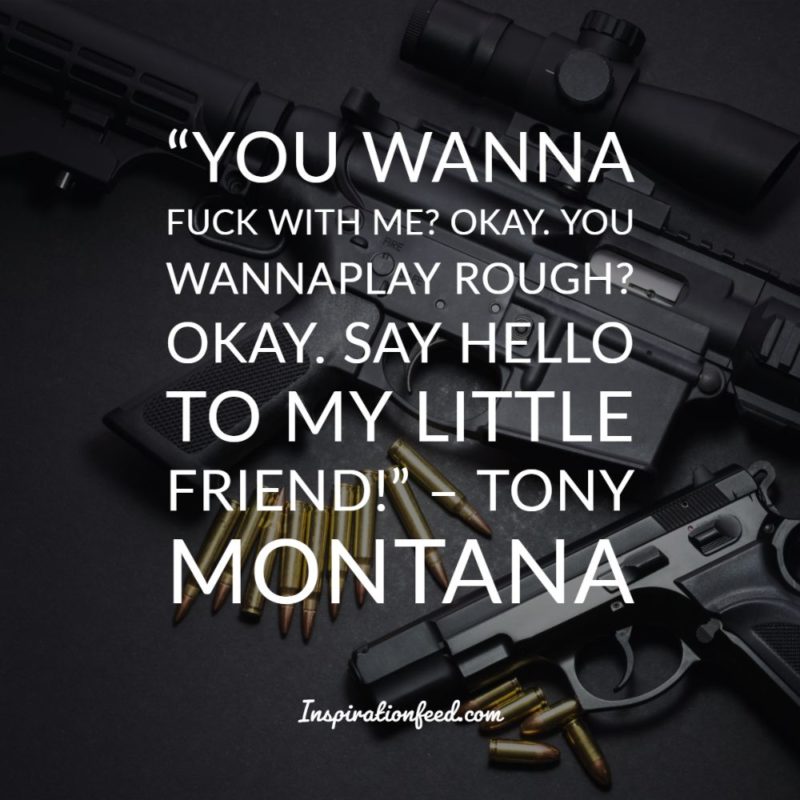 "Now you're talking to me baby! That I like! Keep it coming!" – Tony Montana
"In this country, you gotta make the money first. Then when you get the money, you get the power. Then when you get the power, then you get the women." – Tony Montana
"Who put this thing together? Me, that's who! Who do I trust? Me!" – Tony Montana
"Okay, here's the story. I come from the gutter. I know that. I got no education but that's okay. I know the street, and I'm making all the right connections. With the right woman, there's no stopping me. I could go right to the top." – Tony Montana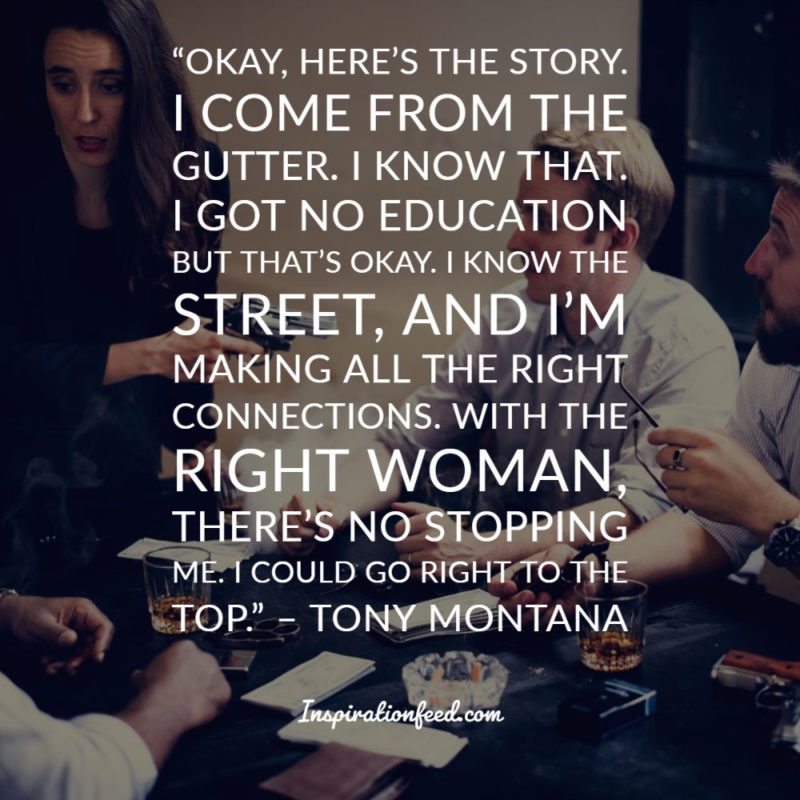 "I always tell the truth. Even when I lie." – Tony Montana
"You know why? You don't have the guts to be what you wanna be? You need people like me. You need people like me so you can point your fuckin' fingers and say, 'That's the bad guy.'" – Tony Montana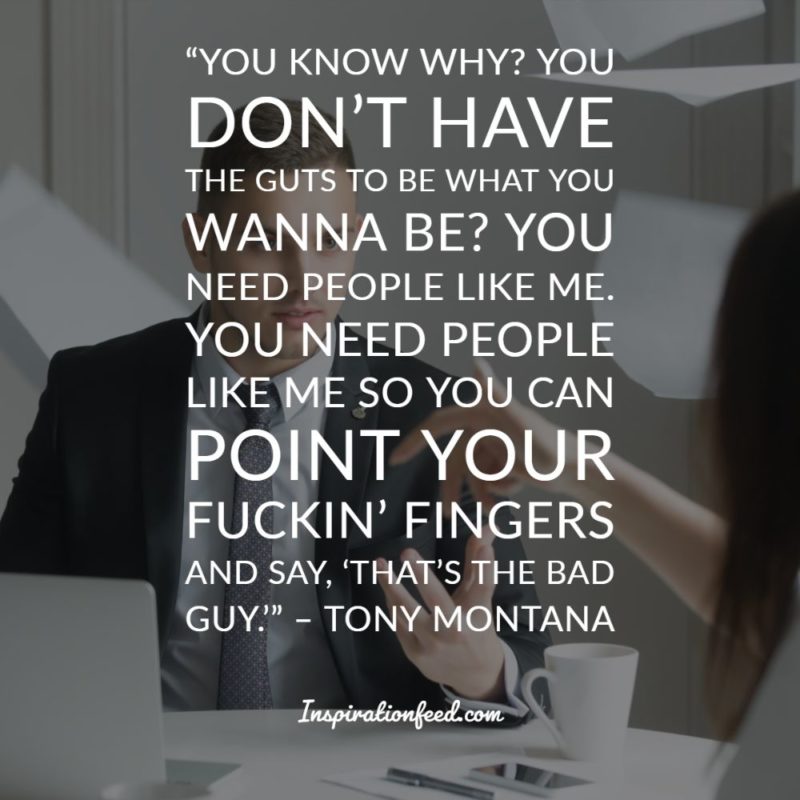 "You're not good. You just know how to hide, how to lie." – Tony Montana
"You know what? Fuck you! How about that?" – Tony Montana
"I never fucked anybody over in my life didn't have it coming to them. You got that? All I have in this world is my balls and my word and I don't break them for no one." – Tony Montana
"That piece of shit up there, I never liked him, I never trusted him. For all I know he had me set up and had my friend Angel Fernandez killed. But that's history. I'm here, he's not." – Tony Montana
"Every dog has his day." – Tony Montana
"Do you wanna go on with me, you say it. You don't, then you make a move." – Tony Montana
"Why don't you try sticking your head up your ass? See if it fits." – Tony Montana
"Go ahead! I take your fucking bullets! You think you kill me with bullets? I take your fucking bullets! Go ahead!" – Tony Montana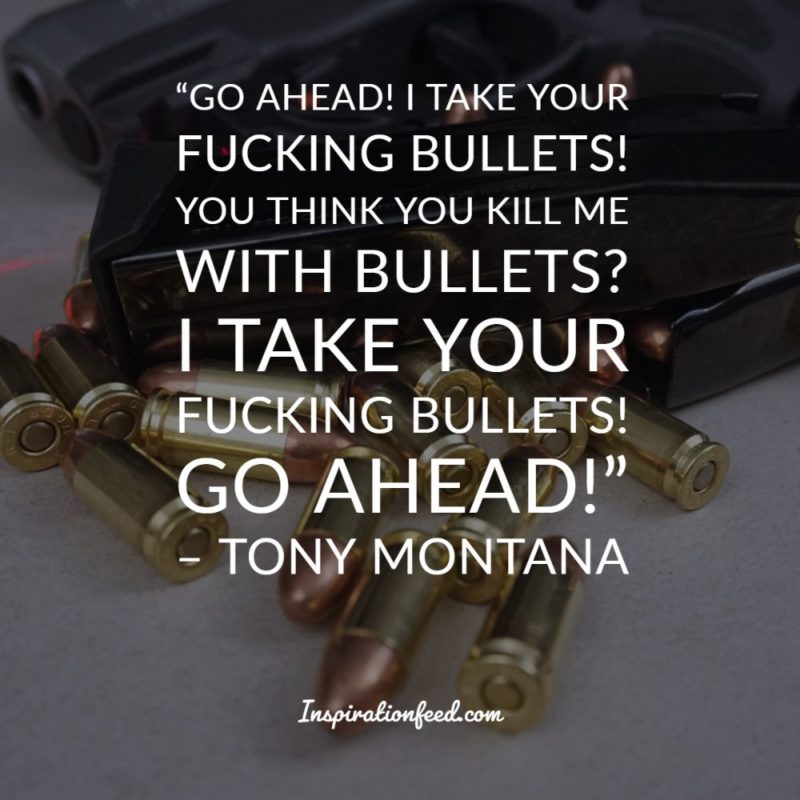 "Another Quaalude, and she'll be mine again."- Tony Montana
"You wanna waste my time? Okay. I call my lawyer. He's the best lawyer in Miami. He's such a good lawyer, that by tomorrow morning, you gonna be working in Alaska so dress warm." – Tony Montana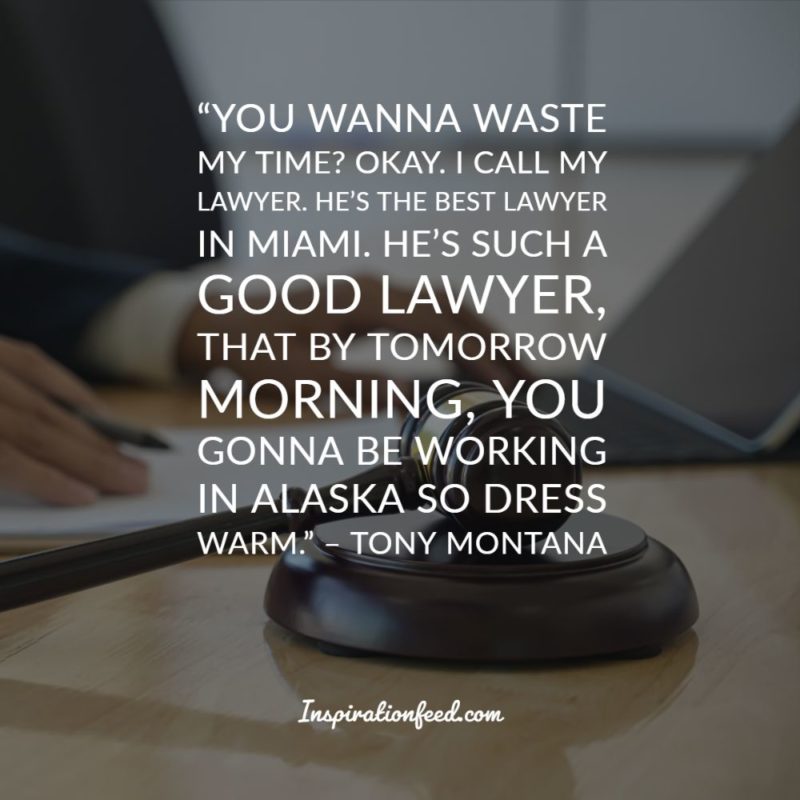 "The only thing in this world that gives orders is balls." – Tony Montana
"The world is yours!" – Tony Montana
"You got nothing to do with your life, man. Why don't you get a job? Do something, be a nurse. Work with blind kids, lepers, that kind of thing. Anything beats you waiting around all day, waiting for me to fuck you, I'll tell you that." – Tony Montana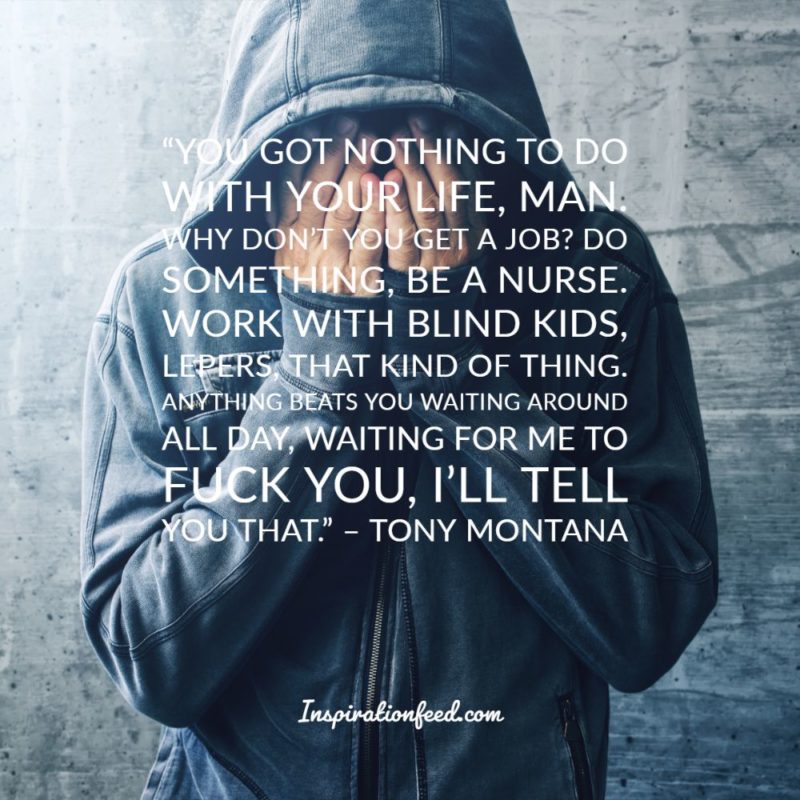 "I work hard for this. I want you to know that." – Tony Montana
"I got ears, ya know. I hear things." – Tony Montana
"You think you can take me? You need a fucking army if you gonna take me!" – Tony Montana
"You should have kept your mouth shut, they'd have thought you was a horse and let you out." – Tony Montana
"Would you kiss me if I wear the hat?" – Tony Montana
"You know what capitalism is? Getting fucked!" – Tony Montana
"This country was built on laundered money." – Tony Montana
"You worry too much. You're gonna have a heart attack." – Tony Montana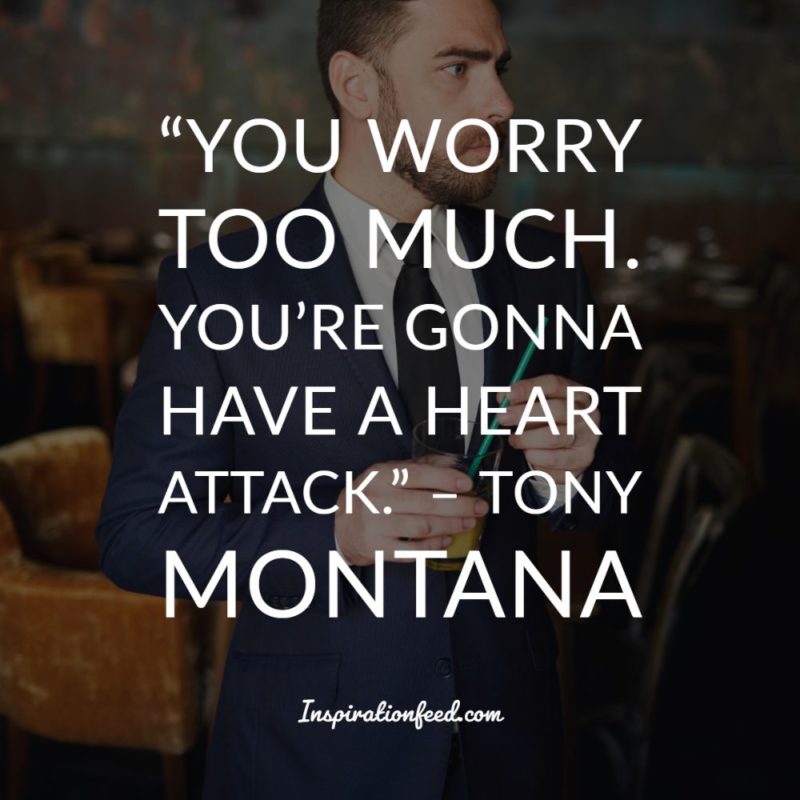 "You know what I'm talkin' about you fucking cockroach." – Tony Montana
"Maybe you can hand yourself one of them first-class tickets to the Resurrection." – Tony Montana
"I always know one day I'm coming here, United States." – Tony Montana
"Sanitation? I told you to tell 'em that you was in a sanitarium. Not sanitation, sanitarium." – Tony Montana
"I kill a communist for fun, but for a green card… I'm gonna carve him up real nice." – Tony Montana
"The guys who last in this business are the guys who fly straight, low-key, quiet and the guys who want it all; chicas, champagne, flash…they don't last." – Tony Montana
"I didn't come to the United States to break my fucking back." – Tony Montana
"This is paradise, I'm tellin' ya. This town like a great big pussy just waiting to get fucked." – Tony Montana
"You're gonna find, if you stay loyal in this business, you're gonna move up. You're gonna move up fast." – Tony Montana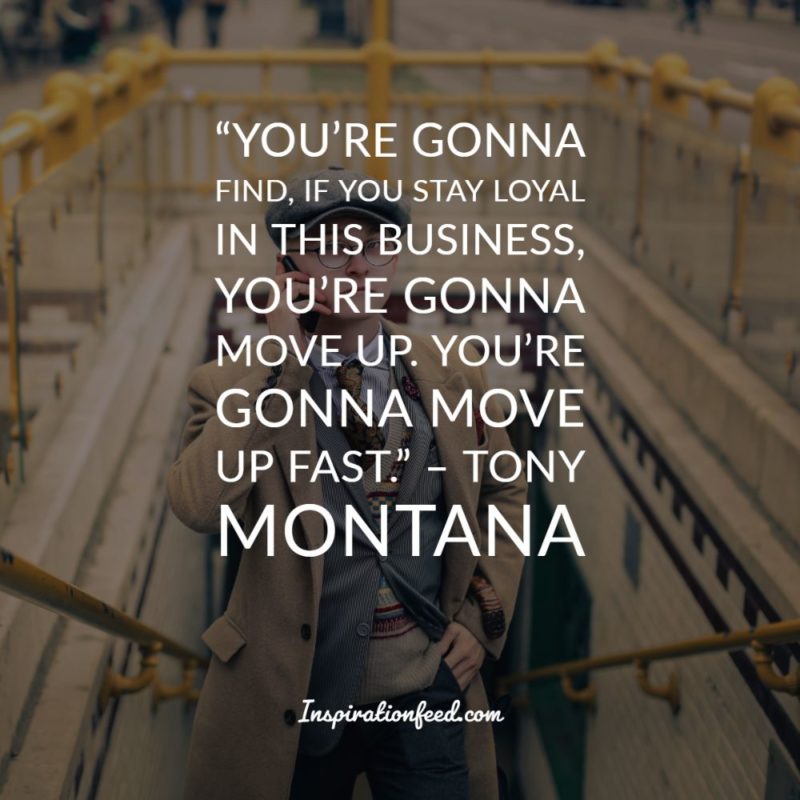 "You think I'll kill two kids and a woman? Fuck that! I don't need that kind of shit in my life!"- Tony Montana
"Fuck Gaspar Gomez! And fuck the fuckin' Diaz brothers! Fuck 'em all! I bury those cockroaches!"- Tony Montana
"Lesson number two: Don't get high on your own supply." – Tony Montana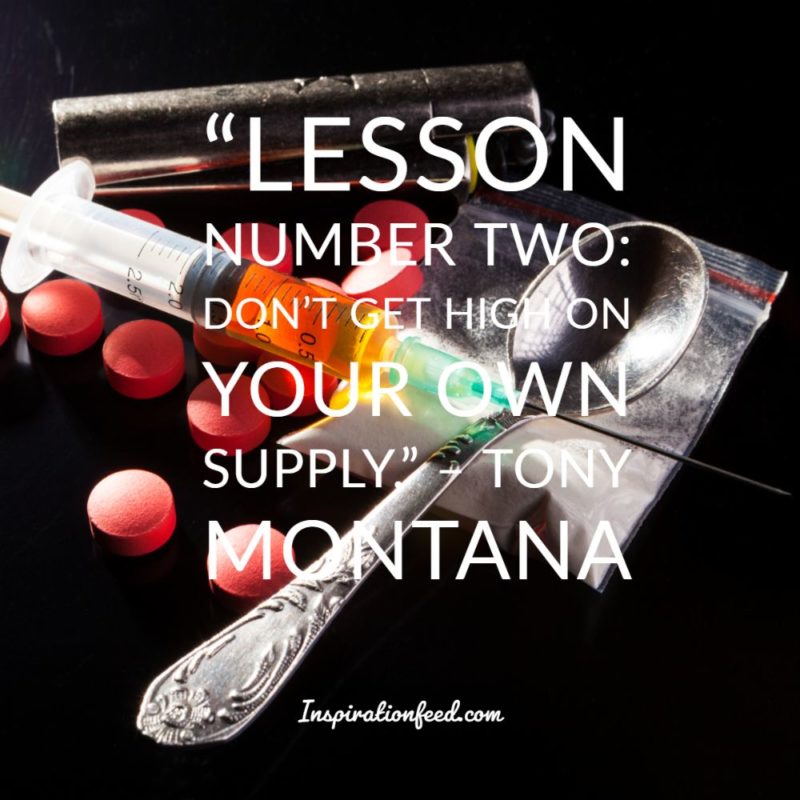 "Two little kids in a car, this is so fucking bad mang."- Tony Montana
"You know what a chazzer is? It's a pig, they don't fly straight!" – Tony Montana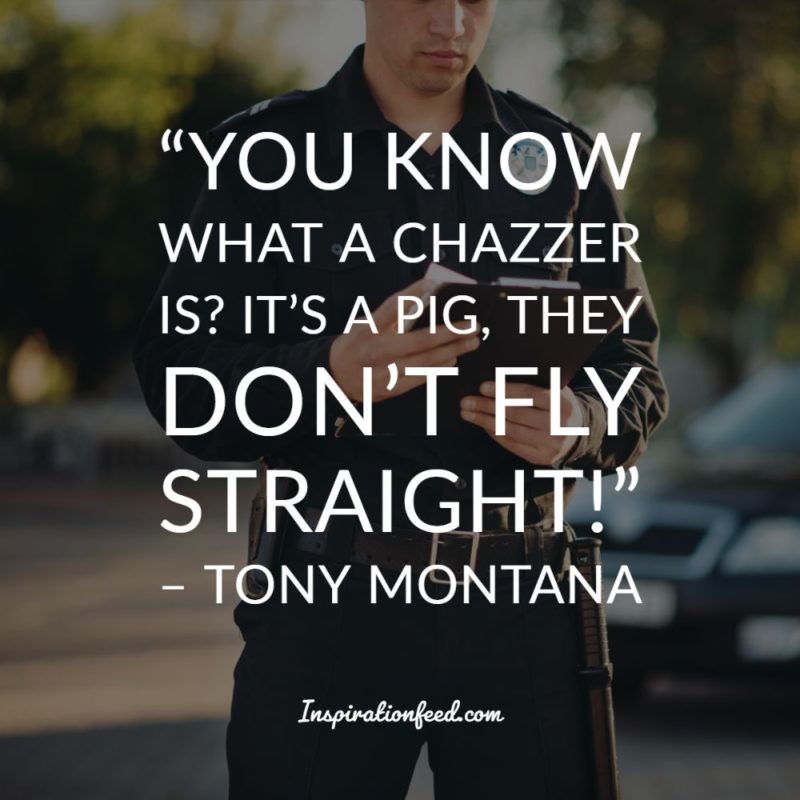 "See, the guy, he wants more than what he needs. He doesn't fly straight no more." – Tony Montana
"What are we gonna do? Go to Cuba and hit The Beard?"- Tony Montana
"The eyes chico, they never lie."- Tony Montana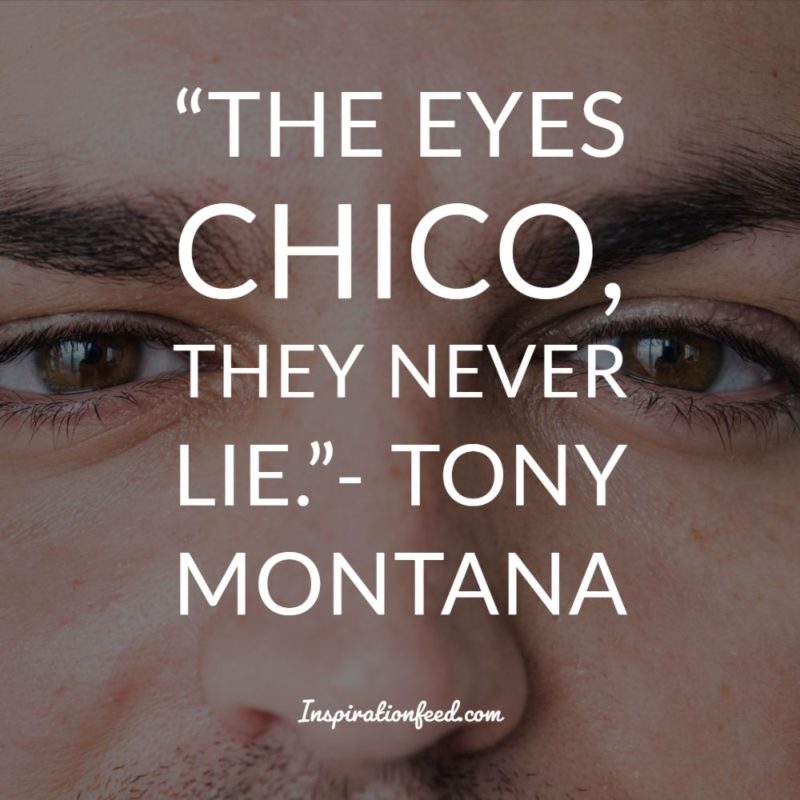 "You a communist? Huh? How'd you like it, man? They tell you all the time what to do, what to think, what to feel. Do you wanna be like a sheep? Like all those other people? Baah! Baah!" – Tony Montana
"You're good looking, you got a beautiful body, beautiful legs, beautiful face, all these guys in love with you. Only you got a look in your eye like you haven't been fucked in a year!"- Tony Montana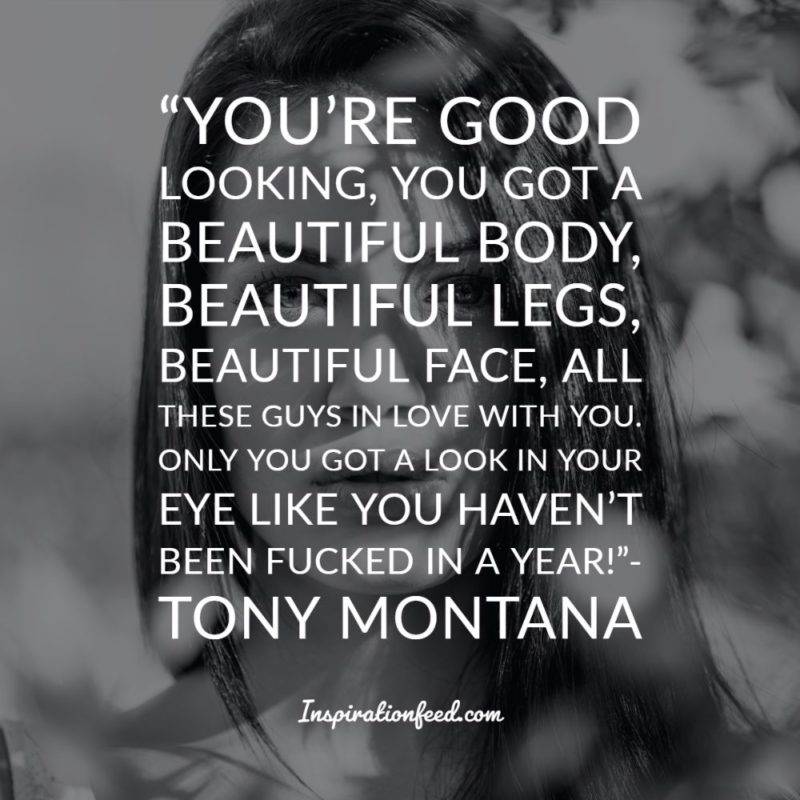 "I'm Tony Montana! You fuck with me, you fuckin' with the best!" – Tony Montana
"Come on. The last time you gonna see a bad guy like this again, let me tell you. Come on. Make way for the bad guy. There's a bad guy comin' through! Better get outta his way!" – Tony Montana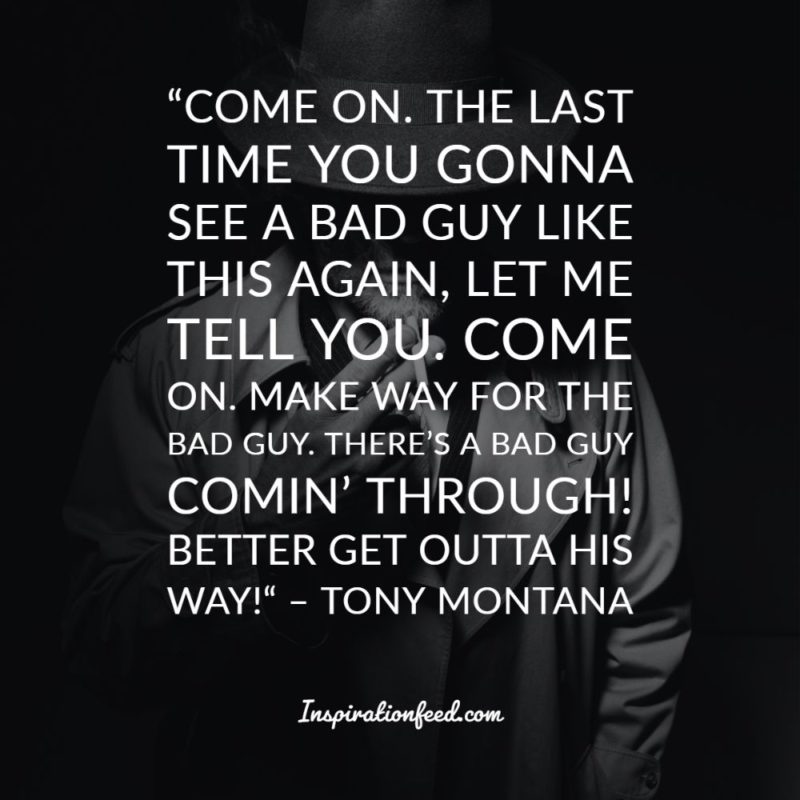 Best Tony Montana Quotes From Scarface
Who Really Gives The Order?
"The only thing in this world that really gives orders is balls." – Tony Montana
This Scarface quote really shows how the world has changed since it was released in 1983. Especially when you consider how much the feminist movement has shaped modern society. And yet this movie is all about male testosterone as well as the intoxicating power of money and violence.
Why Don't You Get A Job Pussycat
This exchange takes place when Tony sees that his wife is bored, unhappy, and just becoming a junkie.
Tony Montana: You know what your problem is, pussycat?
Elvira Hancock: What is my problem, Tony?
Tony Montana: You got nothing to do with your life, man. Why don't you get a job? Do something, be a nurse. Work with blind kids, lepers, that kind of thing. Anything beats you waiting around all day, waiting for me to fuck you, I'll tell you that.
Elvira Hancock: Don't toot your horn, honey, you're not that good.
Always Keep Your Priorities Straight: Money, Power, Women
"In this country, you gotta make the money first. Then when you get the money, you get the power. Then when you get the power, then you get the women." – Tony Montana
This quote reveals a lot about the driving motivation behind the character of Tony Montana. Why did he do the things he did? Why was he willing to go to extremes to get the things he wanted? Because he figured out the way the world works and aligned his personal priorities accordingly.
Working In Alaska
"You wanna waste my time? Okay. I call my lawyer. He's the best lawyer in Miami. He's such a good lawyer, that by tomorrow morning, you gonna be working in Alaska. So dress warm." – Tony Montana
Tony prefers to do business according to the law of the street. But when pushed into a corner, he can both attack and defend himself with lawyers too.
Don't Let Anything Stop You
"Okay, here's the story. I come from the gutter. I know that. I got no education, but that's okay. I know the street. And I'm making all the right connections. With the right woman, there's no stopping me. I could go right to the top."  – Tony Montana
Tony Montana was no poet, but he understood the importance of knowing who you are and where you're wanting to go. He doesn't need tips on how to stay focused. He knows what he wants and no one is going to stop him from getting it.
Don't Mess With The Wrong Person
"I'm Tony Montana! You f*ck with me, you f*ckin' with the best!" – Tony Montana
This Tony Montana quote is a great reminder that a little confidence is great, but too much confidence can get you killed.
Sheep And Communists
"You a communist? Huh? How'd you like it, man? They tell you all the time what to do, what to think, what to feel. Do you wanna be like a sheep? Like all those other people? Baah! Baah!"  – Tony Montana
All I Have In This World Is My Balls And My Word
"I never fucked anybody over in my life didn't have it coming to them. You got that? All I have in this world is my balls and my word and I don't break them for no one. Do you understand? That piece of shit up there, I never liked him, I never trusted him. For all I know he had me set up and had my friend Angel Fernandez killed. But that's history. I'm here, he's not. Do you wanna go on with me, you say it. You don't, then you make a move." – Tony Montana
This is one of the best Tony Montana quotes about life. Montana knows that besides fear, his "word" is one of his most valuable currencies on the street. He prides himself on being a man of his word and not letting anyone break his balls. He also values life. He's alive
Being Bulletproof
Tony Montana: Go ahead! I take your fucking bullets! You think you kill me with bullets? I take your fucking bullets! Go ahead!"
At this point in the movie, Tony had amassed so much power and wealth, that he was blinded by it.
Say Goodnight To The Bad Guy
Tony Montana: What you lookin' at? You all a bunch of fuckin' assholes. You know why? You don't have the guts to be what you wanna be? You need people like me. You need people like me so you can point your fuckin' fingers and say, "That's the bad guy." So… what that make you? Good? You're not good. You just know how to hide, how to lie. Me, I don't have that problem. Me, I always tell the truth. Even when I lie. So say goodnight to the bad guy! Come on. The last time you gonna see a bad guy like this again, let me tell you. Come on. Make way for the bad guy. There's a bad guy comin' through! Better get outta his way!
This is one of my favorite Tony Montana quotes. At this point in the film, Montana understands his place in society and calls out the snobby people in the restaurant who are looking down on him.
Say Hello To My Little Friend
Tony Montana: You wanna fuck with me? Okay. You wanna play rough? Okay. Say hello to my little friend! (Tony shoots)
This quote is, without a doubt, not only one of the most famous Scarface quotes but one of the most iconic lines in movie history. It's a simple line, but in Pacino's hands, it became a little piece of poetry.