Originally created by Carlo Collodi in 'The Adventures Of Pinocchio', 1883, Jiminy Cricket is a character that has been remodeled and reshaped into various forms of fiction with time.
Walt Disney took the character and made several adaptations out of it, adding more layers to his character. In the movie, Jiminy Cricket helps Pinocchio realize the several elements of human consciousness and distinguish between the rights and the wrongs, the goods, and the evils.
He has been depicted as a fragment of the consciousness, a guide, and an insect (cricket) who can sing and engage in wise talks. It can be said that Jiminy Cricket is present within the consciousness of every individual and this consciousness evolves one into a good or an evil person depending on their actions. The consciousness that Jiminy Cricket vouches for draws influence mainly from the verses of the Bible. So check out these Jiminy Cricket quotes that are filled with motivation to pursue the path of righteousness and self-belief.
Jiminy Cricket Conscience Quotes From 'Pinocchio'
Disney made an animated adaptation of Carlo's story 'Pinocchio' that was released in 1940 where Jiminy Cricket acts as the guiding force for Pinocchio, always showing him the path of righteousness. So here are some quotes and songs from the Disney animation to keep you engaged.
1. "Take the straight and narrow path
And if you start to slide,
Give a little whistle!
Give a little whistle!
And always let your conscience be your guide."
– Jiminy Cricket.
2. "That little puppet used to have trouble telling right from wrong. But he's come a long way. Maybe he doesn't need Jiminy Cricket anymore. Seems like he's got a conscience of his very own."
– Jiminy Cricket.
3. "Oh, my! Who told you that? You need some advice from your conscience!"
– Jiminy Cricket.
4. "A fine conscience I turned out to be!"
– Jiminy Cricket.
5. "If you want to be right, do things the right way because if you do things the wrong way that's the foolish way."
– Jiminy Cricket.
6. "You can't shoulder all by your problems alone, ya know. You must have somebody-a friend you can talk to?"
– Jiminy Cricket.
7. "When you wish upon a star,
Makes no difference who you are,
Anything your heart desires will come to you."
– Jiminy Cricket.
8. "Well, I'm goin' with ya. Pinocchio's gonna need his conscience, and that's where I come in."
– Jiminy Cricket.
9. "No fibbing, now! You know you're not supposed to tell lies. A lie only grows and grows, 'til you get caught! Plain as the nose on your face!"
– Jiminy Cricket.
10. "What's a conscience! I'll tell ya! A conscience is that still small voice that people won't listen to. That's just the trouble with the world today."
– Jiminy Cricket.
Jiminy Cricket Famous Quotes That Would Make You Question Your Mind
Jiminy Cricket is the fragment of our minds where the mind shows us the way through, the shining light. Check out these Jiminy Cricket quotes wish upon a star, consciousness quotes, quotes on desire, and quotes on righteousness to give you a good headstart.
11. "Live in the jungle once, but leave before it makes you hard. Live in the forest once, but leave before it makes you soft."
– Jiminy Cricket, 'House of Mouse', 2001.
12. "Over here! Cricket's the name. Jiminy Cricket, at your service."
– Jiminy Cricket, 'Pinocchio'.
13. "Like a bolt from the blue
Fate steps in and sees you through
When you wish upon a star
Your dreams come true."
– Jiminy Cricket, 'Pinocchio'.
14. "I play safe for you and me
'Cause I'm no fool."
– Jiminy Cricket, 'I'm No Fool'.
15. "Maybe you and I better have a little heart-to-heart talk."
– Jiminy Cricket, 'Pinocchio'.
16. "Now, you see, the world is full of temptations."
– Jiminy Cricket, 'Pinocchio'.
17. "Treat your elders with respect, and don't be fooled by bad advice. If a guy named Foulfellow invites you to a place called Pleasure Island, don't go! I mean, he's got the word, 'foul' right in his name! But trust me on the conscience thing."
– Jiminy Cricket, 'House of Mouse', 2001.
18. "Avoid anyone that has a fiendish cackle, a sinister smile, or a diabolical glare, not necessarily in that order."
– Jiminy Cricket, 'House of Mouse', 2001.
19. "You are a human animal
You are a very special breed
For you are the only animal
Who can think,
Who can reason,
Who can read."
– Jiminy Cricket, 'You'.
20. "Anyone can be a fool
And do things which are wrong
But fools find out when it's too late
That they don't live so long."
– Jiminy Cricket, 'I'm No Fool'.
21. "After all, enough is enough."
– Jiminy Cricket, 'Pinocchio'.
22. "Fighting is a bad idea. Giving in to one's dark side never accomplishes anything."
– Jiminy Cricket, 'Once Upon a Time', Season 1, Episode 1.
JIMINY CRICKET FAMOUS QUOTES
#1. Apparently, I've grown a conscience. I don't know when it happened. I don't know how it happened, but I'm not happy about it.
If I could, I would squash that Jiminy Cricket fucker like the roach he is. – Author: Emma Chase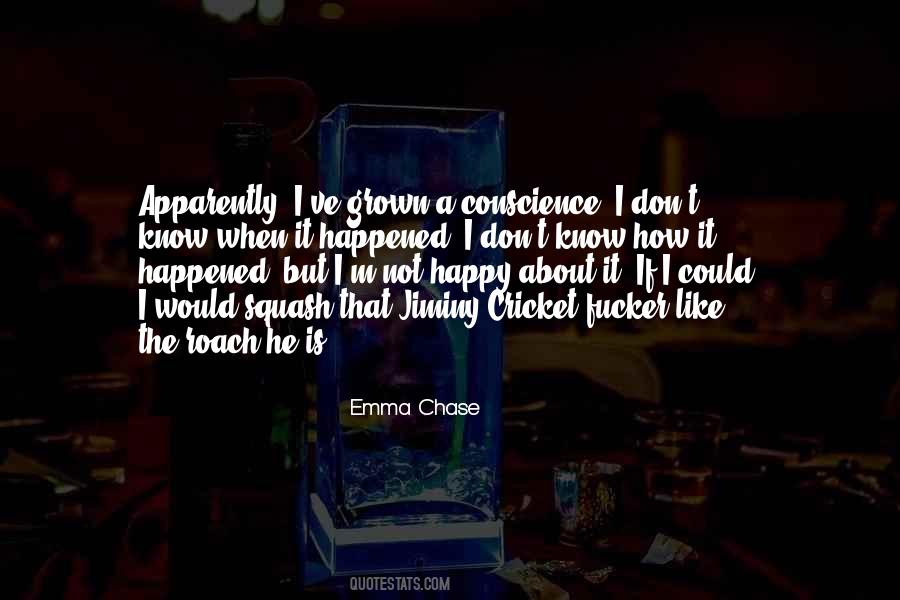 #2. Cole stared at the Pinocchio clock, then a small ceramic figurine of Jiminy Cricket a client had given him. Let your conscience be your guide. Everyone needed a Jiminy. – Author: Robert Crais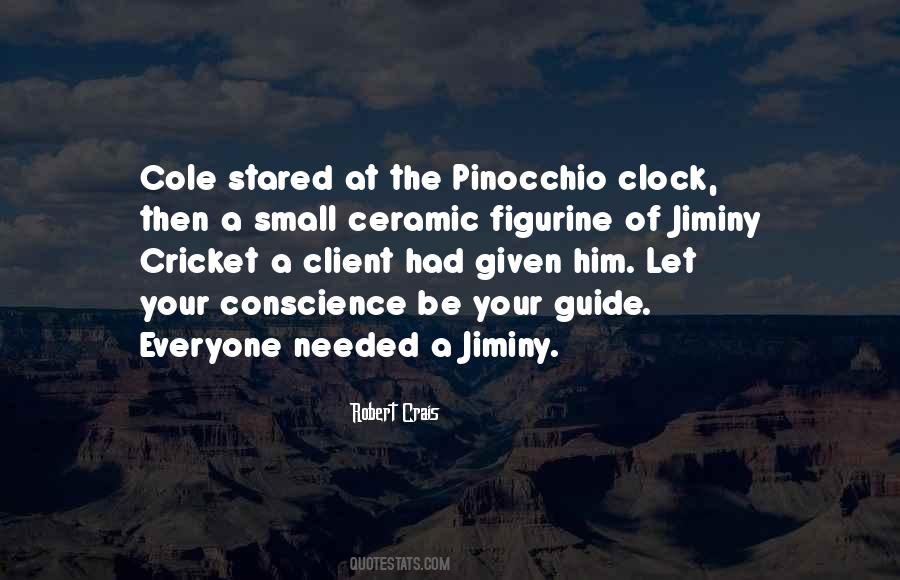 #3. When your heart is in your dreams, no request is too extreme. Jiminy Cricket
Never, never, never give up. Winston Spencer Churchill – Author: Sheelagh McGrath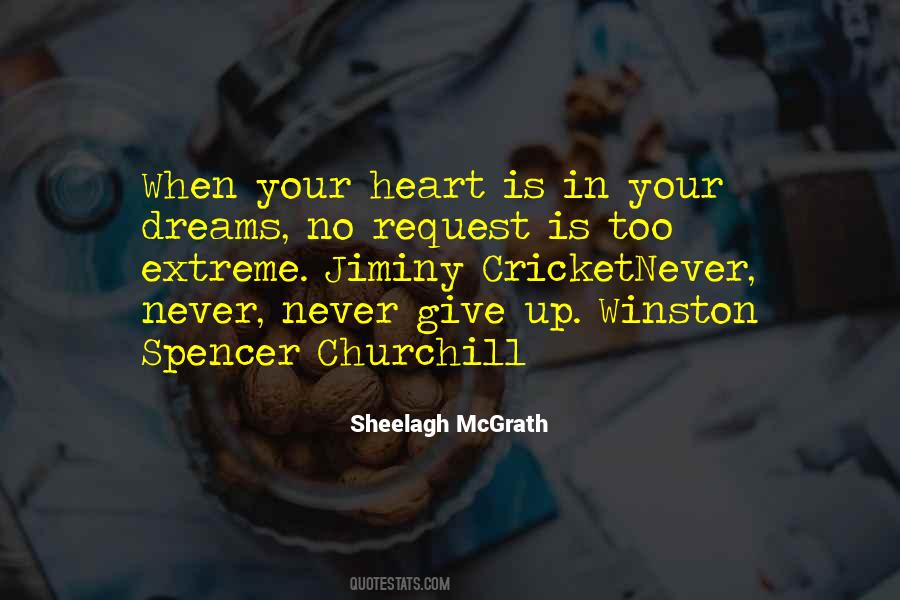 #4. God, and Parents, and our Master, can never be requited. – Author: George Herbert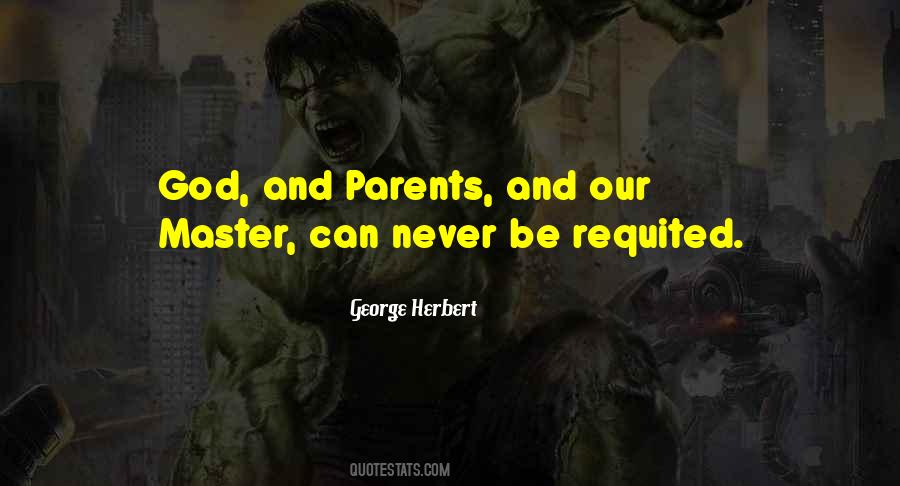 #5. Stress the right of the individual to select only what he desires to know, to use any knowledge as he wishes, that he himself owns what he has learned. – Author: L. Ron Hubbard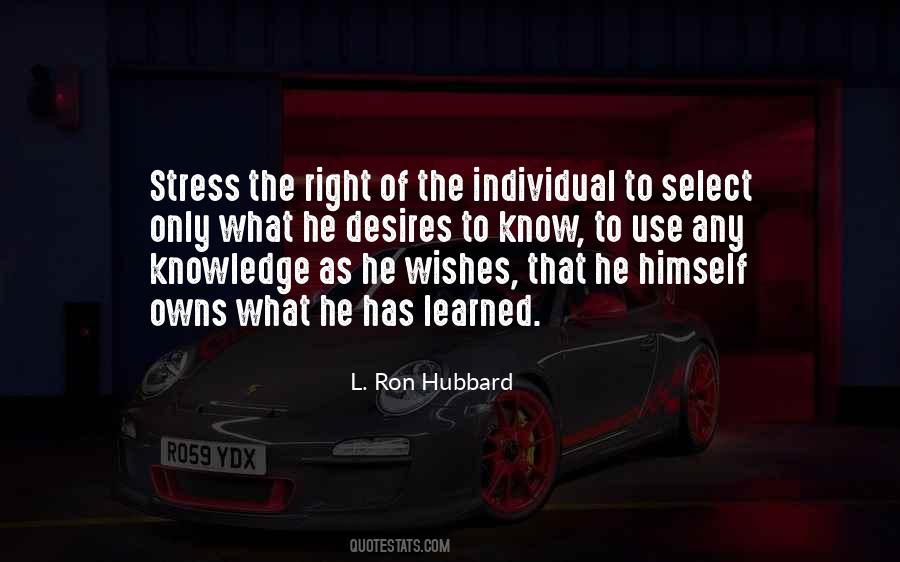 #6. When I first went on Britain's Got Talent I was famous for my cheap suit, my wonky teeth and the fact that I sold mobile phones for a living. – Author: Paul Potts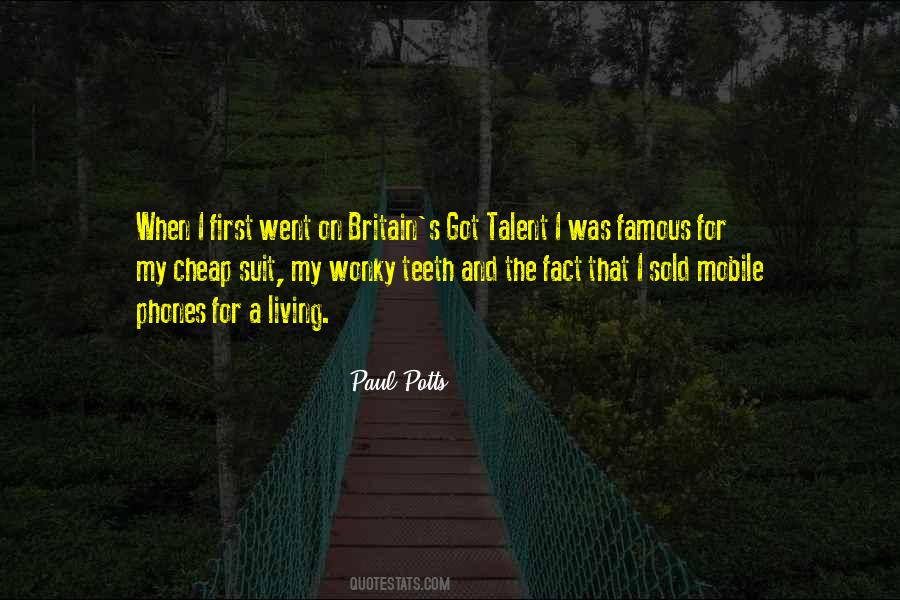 #7. The very best parts of me go into my writing, it is the best version of myself, and I don't think it's hubristic to believe that that's worth something, worth someone else's time. It's the most I have to offer the world. – Author: Jami Attenberg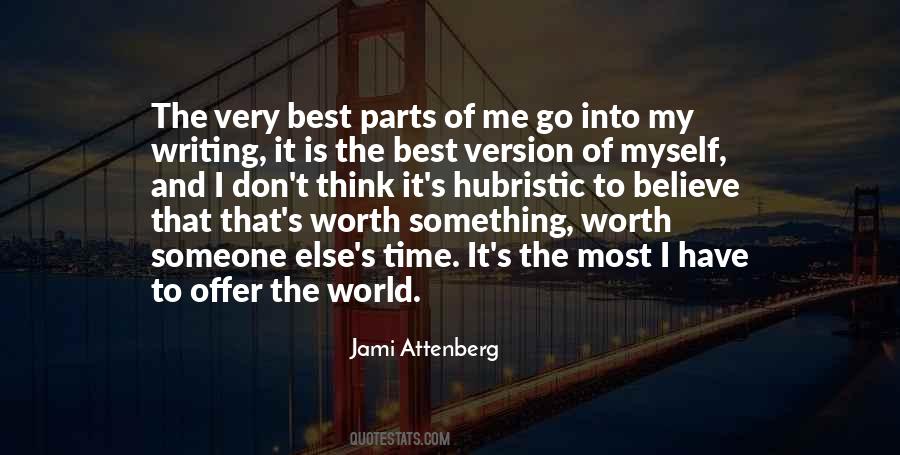 #8. You can choose where your feet take you, man. That's Dominic again, who's like my own little Jiminy Cricket, Portuguese fisherman style. – Author: Huntley Fitzpatrick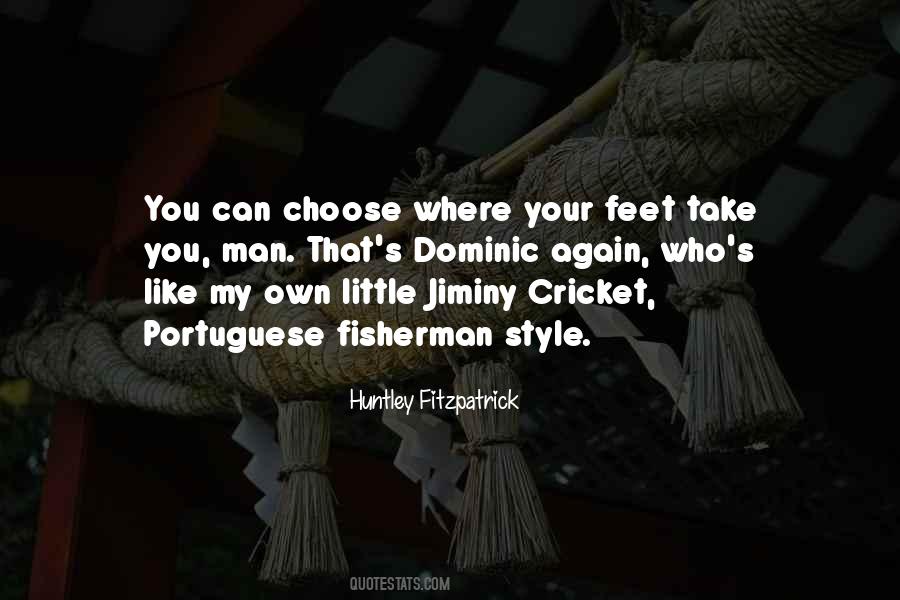 #9. Music is as integral to me as my own DNA. My life has become a continual soundtrack, with music underscoring the most powerful and even the most banal moments of my life. – Author: Danielle De Niese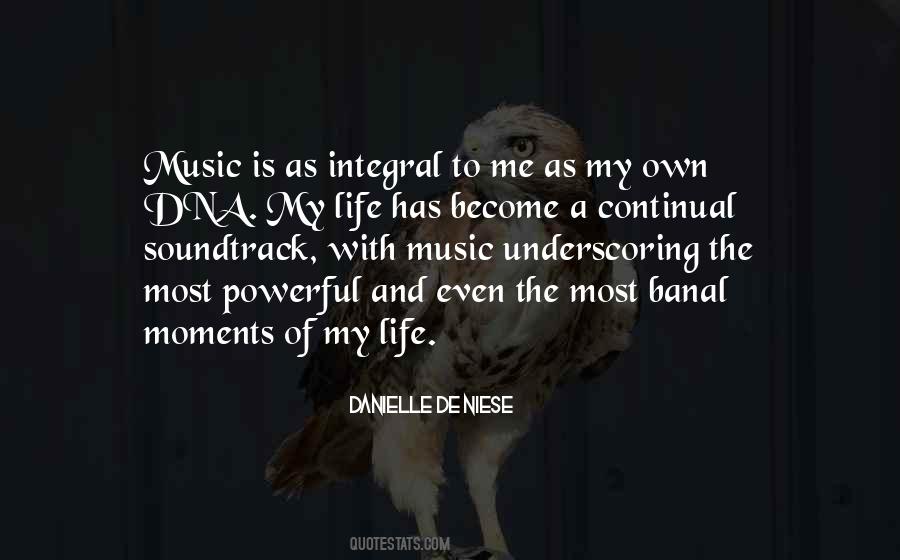 #10. Who is he?" "Jiminy Cricket," I said. "He hangs around to make – Author: Robert B. Parker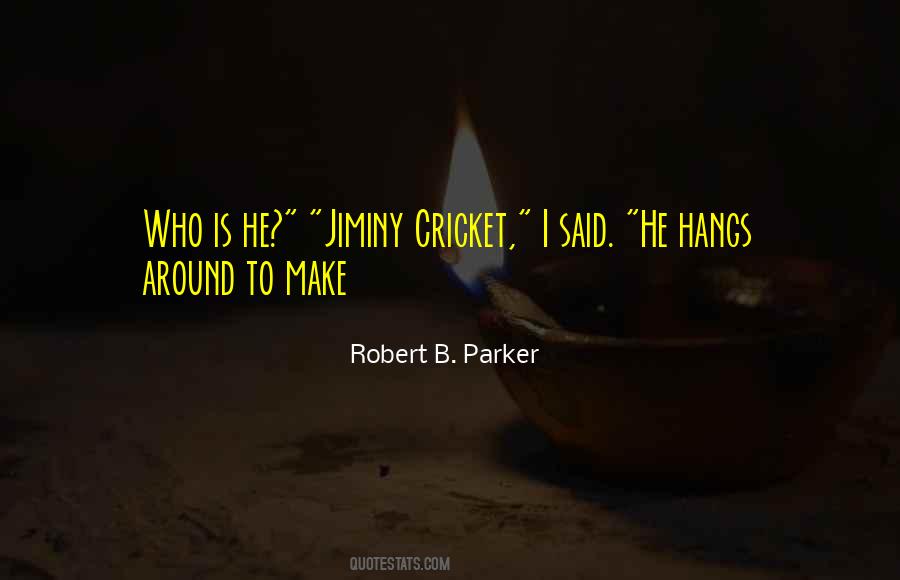 #11. And I don't just WANT you, Helen. I LOVE you. Big difference. – Author: Josephine Angelini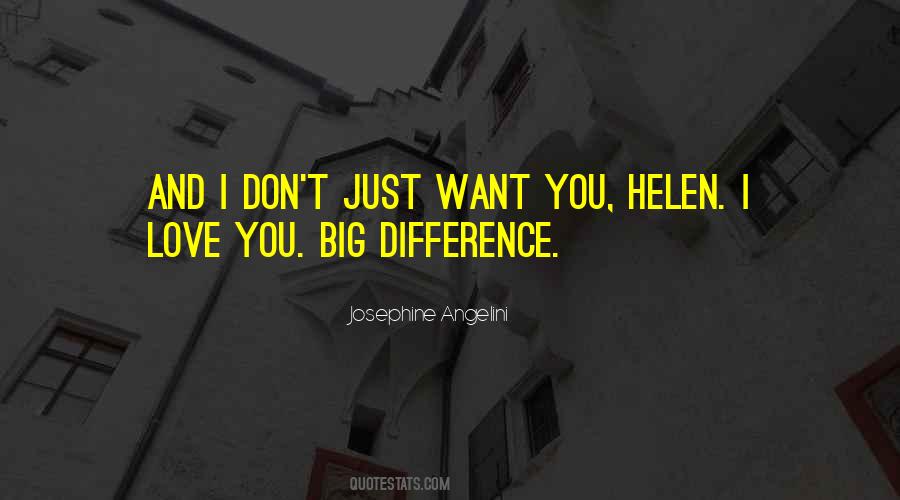 #12. Whatever advantage we snatch beyond a certain portion allotted us by at nature, is like money spent before it is due, which, at the time of regular payment, will be missed and regretted. – Author: Samuel Johnson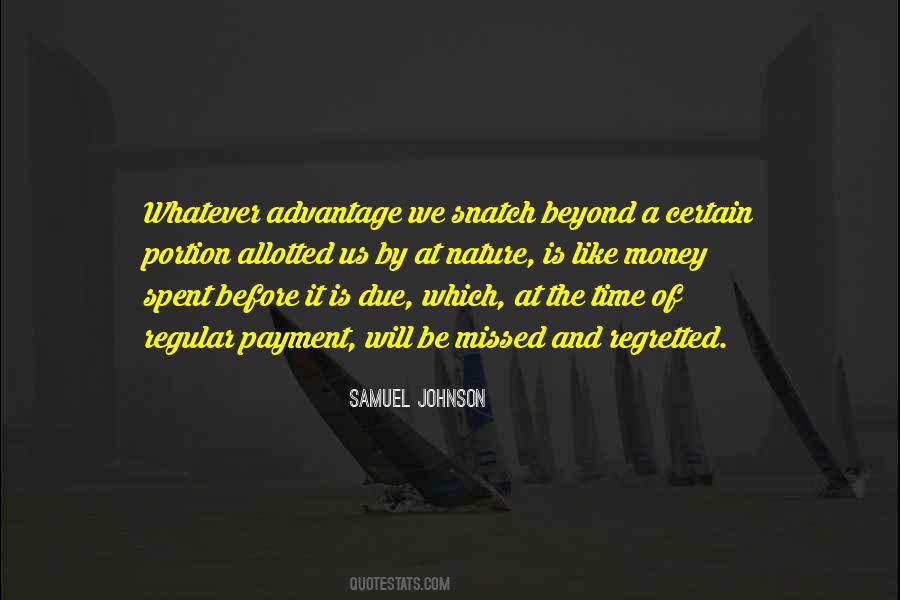 #13. I am a sadistic pig, a pervert and a rapist. – Lisbeth Salander, Millennium – Author: Stieg Larsson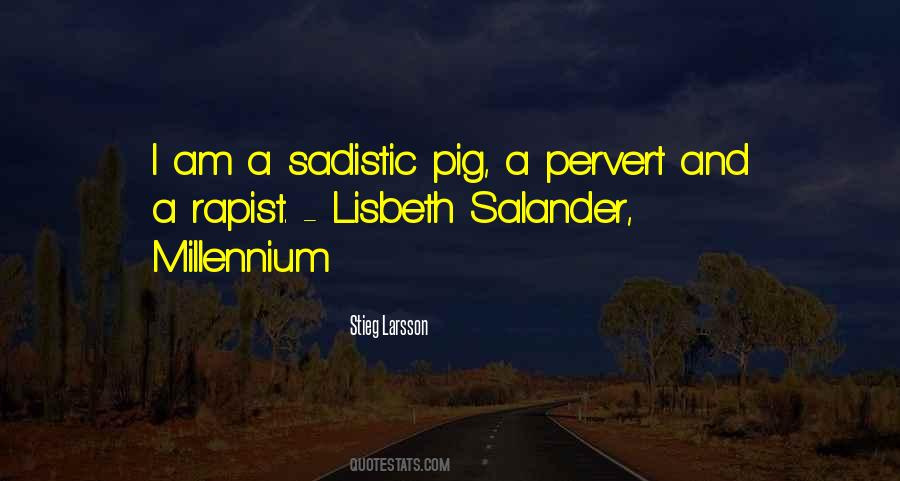 #14. Theophilus Crowe's mobile phone played eight bars of "Tangled Up in Blue" in an irritating electronic voice that sounded like a choir of suffering houseflies, or Jiminy Cricket huffing helium, or, well, you know, Bob Dylan. – Author: Christopher Moore
Funny Jiminy Cricket Quotes
"Well, I'll be! Ho-ho-ho! My, my! Solid gold, too. Oh, I think it's swell."
"Father! Huh? He ain't *my* father. Uh, Mr. Geppetto!"
"Here they come, Pinoke. Now, you tell 'em."
"Now, you see, the world is full of temptations."
"Oh, Cricket's the name. *Jiminy* Cricket!"
"Let go! Put me down!"
"rasshopper? Look here, you – you impudent young pup! It wouldn't hurt you to take orders from your grasshop – er, your conscience, if you have one!"
"Needs a little oil."
"That's what I said."
"[seeing Pinocchio for the first time] Good piece of wood, too."
"Yep, temptations. They're the wrong things that seem right at the time… but… uh… even though the right things may seem wrong sometimes, or sometimes the wrong things…"
"may be right at the wrong time, or visa versa."
"[clears throat] Understand?"
"Atta boy, Pinoke! And I'm gonna help ya."
"[to the night sky] Thank you, milady. He deserved to be a real boy. And it sure was nice of you to…"
"Huh? Wha… Oh? Wha…"
"All right, then, here's what we'll tell 'em. You can't go to the theater. Say thank you just the same – you're sorry, but you've got to go to school."
"Good-bye? Huh? Good-bye?"
"Hey, Pinoke! You can't go…! There he goes. What'll I do? I'll run and tell his father. No, that'd be snitching. I'll go after him myself."
"[blushing] Well, uh, I… Uh-huh."
"No tricks now."
"[Admiring his new clothes] Well! Ho-ho-ho! My, my! Mmm! Say, that's pretty swell! Gee, thanks. But, uh, don't I get a badge or something?"
"You mean maybe I will?"
"Make it a gold one?"
"[seeing the Blue Fairy appear for the first time] As I live and breathe, a fairy. Mm-mmm!"
"Whew! What they can't do these days!
"[after Pinocchio falls down the stage stairs during Stromboli's puppet show] Go ahead, make a fool of yourself, then maybe you'll listen to your conscience."
"A fine conscience I turned out to be!"
"[arrives at the billiard hall on Pleasure Island] Pinocchio! So this is where I find you! How do you ever expect to be a real boy? Look at yourself. Smoking! Playing pool!"
"Oww! You're comin' right home with me this minute!"
"[outraged] Your *best friend*? And what am *I*? Just your conscience? Okay! That settles it!"
"[Pinocchio looks up at him] Go ahead. Tell her."
"When you wish upon a star, makes no difference who you are / Anything your heart desires will come to you / If your heart is in your dream, no request is too extreme / When you wish upon a star as dreamers do…"
"Like a bolt out of the blue, fate steps in and sees you through / When you wish upon a star, your dreams come true…"
"Lampwick, hmph! Lampwick! Burns me up! After all I tried to do for him. Who's his conscience, anyway? Me or that hoodlum Lampwick? Well, I've had enough of this. I'm takin' the next boat outta here."
"[after singing "When You Wish Upon a Star"] Pretty, huh? I'll bet a lot of you folks don't believe that. About a wish coming true? Well, I didn't either. Of
course, I'm just a cricket singing my way from hearth to hearth, but let me tell you what made me change my mind."
"[after Pinocchio is brought to life] What they can't do it these days."
"[when Pinocchio is locked in a cage] Oh, buck up, son. It could be worse. Be cheerful… [breaks down and cries] LIKE ME!! [Pinocchio begins to sob harder,
and a tear falls on his hat] Awwww, take it easy, son. Come on, blow. [Pinocchio blows his nose on the handkerchief] Atta boy. [Jiminy also blows his nose
with the handkerchief] Oh, well, it stopped raining anyway."
"A fine conscience I turned out to be!"
"Well, guess he won't be needing me anymore. What does an actor want with a conscience, anyway?"
"Go ahead. Make a fool of yourself, then maybe you'll listen to your conscience."
"[while at Pleasure Island] Pinocchio! [coughs] Pinocchio! There's something phony about all of this. I've got to get him outta here."
"Pinocchio! So, this is where I find you! How do you ever expect to be a real boy? Look at yourself! Smokin'? [pulls the flattened cigar out of Pinocchio's
mouth] Playin' pool? [angrily kicks the #8 ball and stubs his toe] OWW! You're coming right home with me this minute!"
"Pinocchio? Oh, Pinocchio! [seeing Pinocchio dead] Pinocchi– [gasps]"
"[after singing "When You Wish Upon a Star"] "Pretty, huh? I'll bet a lot of you folks don't believe that. About a wish coming true? Well, I didn't either. Of course, I'm just a cricket singing my way from hearth to hearth, but let me tell you what made me change my mind."
"[seeing Pinocchio for the first time] "Good piece of wood, too. "
"[frustrated by the clocks ticking and Geppetto's and Figaro's snoring while trying to get to sleep] QUIET! [the noise stops] After all, enough is enough."
"[seeing the Blue Fairy appear for the first time] As I live and breathe, a fairy. Mm-mmm!"
"[after Pinocchio is brought to life] "What they can't do these days."
"That won't be easy."
"[watching] How'll he know!"
"What's a conscience! I'll tell ya! A conscience is that still small voice that people won't listen to. That's just the trouble with the world today… "
"Who, me?"
"[tipping his hat] "Oh, Cricket's the name. Jiminy Cricket! "
"Huh? [Kneels] No tricks now. [the fairy taps Jiminy with her wand; his rags turn into fine clothes]"
"[Admiring his new clothes] Well! Ho-ho-ho! My, my! Mmm! Say, that's pretty swell! Gee, thanks. But, uh, don't I get a badge or something?"
"You mean maybe I will?"
"Make it a gold one?"
"[Looks at his reflection in a paintpot and turns to Pinocchio] "Oh! Almost forgot about you. Well, Pinoke. You and I need to have a little heart-to-heart
talk."
"Well, you wanna be a real boy, don't you? (Pinocchio nods his head yes) Sit down, son. [Pinocchio drops down on the bench] Now, you see, the world is full
of temptations."
"Yep, temptations. They're the wrong things that seem right at the time, but, uh…. even though the right things may seem wrong, sometimes, or sometimes,
the wrong things [chuckles] may be right at the wrong time, or visa versa. [clears throat] Understand?""
"Attaboy, Pinoke! And I'm gonna help ya. Now if you need me at anytime, just whistle. Like this." (Whistles)"
"[pointing to Honest John] Remember what I said about temptations? That's him."
"[shocked] Honest John?"
"A fine conscience I turned out to be!"
"All right, then, here's what we'll tell 'em. You can't go to the theater. Say thank you just the same – you're sorry, but you've got to go to school."
"Here they come, Pinoke. Now, you tell 'em.'
"Good-bye? Huh? Good-bye? [Sees Pinocchio going off with Foulfellow and Gideon] Hey, Pinoke! You can't go…! There he goes. What'll I do? I'll run and tell
his father. No, that'd be snitching. I'll go after him myself."
"[after Pinocchio falls down the stage stairs during Stromboli's puppet show] Go ahead, make a fool of yourself, then maybe you'll listen to your conscience."
"Well… guess he won't need me anymore. What does an actor want with a conscience, anyway?"
"[When Pinocchio is locked in a cage] Oh, buck up, son. It could be worse. Be cheerful… [breaks down and cries] LIKE ME!! [Pinocchio begins to sob harder,
and a tear falls on his hat] Awwww, take it easy, son. Go ahead, blow. [Pinocchio blows his nose on the handkerchief] Atta boy. [Jiminy also blows his nose
with the handkerchief] Oh, well, it stopped raining anyway."
"Go ahead. Tell her."
"[jumps in front of Pinocchio] Psst! Leave me out of this."
"Perhaps?"
"Hey, we're free. Come on, Pinoke."
"[guietly] Toodle-oo, Stromboli."
"Shhh! Quiet! Let's get out of here before something else happens."
"You better!"
"That's the stuff, Pinoke!"
"Now you're talkin'! C'mon, slowpoke! I'll race you home!"
"Pinoke! Oh, Pinoke! Now where do you suppose he-[Turns around to see Pinocchio, Honest John, and Gideon disappear around the corner and runs after them]Huh!? Pinocchio! Hey! Come back!"
"Well… [Coughs] Here we go again."
"Pinocchio! (Coughs) Pinocchio! There's somethin' phony about all this. I gotta get him outta here."
"Pinocchio! Where is everybody? This place is like a graveyard. I don't like the looks of this. Hey! Where are you?"
"PINOCCHIO! So, this is where I find you! How do you ever expect to be a real boy? Look at yourself! Smokin'? [pulls the flattened cigar out of Pinocchio's
mouth] Playin' pool? [Angrily kicks the #8 ball and stubs his toe] OWW! You're coming right home with me this minute!"
"Hey, put me down! [Voice becomes muffled as he gets wrapped around in his coat] Let me outta here! Put me down!"
"Grasshopper? Look here, you impudent young pup! It wouldn't hurt you to take orders from your grasshopper! Uh… Your conscience! If you had one."
"[Climbs out of hole] Why, you young hoodlum! [takes off his jacket] I'll knock your block off! [punches the air. Lampwick laughs harder] I'll take you apart
and put you back together!"
"Why, I'll… Huh! Your best friend? And what am I? Just your conscience. [Angrily storms away] OK! That settles it!"
"You buttered your bread. Now sleep in it![puts his jacket on backwards and falls down a pool hole again; Lampwick laughs even harder][mocks Lampwick's
laughter] Ha, ha, ha! Go on, laugh! Make a jackass outta yourself! I'm through! This is the end!"
"Lampwick! Hmph!"
"Lampwick? Ha! Lampwick! [Kicks a smoked cigar, making the ashes fly everywhere] Burns me up. After all I tried to do for him! Who's his conscience anyway!
Me, or that hoodlum Lampwick? I've had enough of this! I'm takin' the next boat outta here! [raps on the door with his umbrella handle] Open up that door!
Open up! I wanna go home!"
"[scratches his head] Where'd all the donkeys come from?"
"Boys? So that's why— Pinocchio! [He runs back to the pool hall to warn Pinocchio what has happened to the boys]"
"[races towards the pool hall] I hope I'm not too late."
"Wait, Pinoke! The kids! The boys! They're all donkeys! [Gasps] You, too! [Pinocchio nods] C'mon, quick, before you get any worse. [They run away as Lampwick
is still kicking and screaming. They run out over a cliff] This way, Pinoke. It's the only way out. Move it! Hurry up…. umph… before they see us. You
gotta jump. [They plunge into the water and swim far away from Pleasure Island and get up on dry land and head back to the workshop]"
"Don't worry son. He probably hasn't gone far."
"[following after Pinocchio] Hey, where ya goin'?"
"But, Pinoke, are you crazy? Don't you realize that he's in the whale?"
"Hey, Pinoke! Wait! Listen here, Son![Pinocchio keeps going straight to a high cliff overlooking the ocean, Jiminy following all the way] But this Monstro,
I've heard o'him; he's a whale of a whale! [Pinocchio starts tying a rock to his donkey tail] Why, he swallows whole ships alive! [He then helps tie
Pinocchio's tail to the rock completely] Tie it good and tight, now. And besides, it's dangerous! Why, I–"
"Good-bye? I may be live bait down there, but I'm with ya! C'mon. [hops onto the rock and holds his nose] Let's go. [screams bloody murder as they jump deep
down off the cliff] LOOK OUT BELO-OO-OWW!!!! [they enter the ocean with a gigantic splash, and the rock attached to Pinocchio's tail leads them to the ocean
floor]"
"Father! Huh? He ain't my father. Uh, Mr. Geppetto!"
"[to Monstro] Hey, blubber mouth, open up! I gotta get in there!"
"Well! This is practically where I came in."
"[to the night sky] "Thank you, milady. He deserved to be a real boy. And it sure was nice of you to… [suddenly the whole area turns bright] Huh? Wha… Oh? Wha… [suddenly a big gold conscience badge appears on his shirt] Well, I'll be! Ho-ho-ho! My, my! Solid gold, too. Oh, I think it's swell." [he flashes the badge to the sky]"