Famous Greatness Quotes
"You were designed for accomplishment, engineered for success, and endowed with the seeds of greatness." – Zig Ziglar
"Greatness is a choice." – Nike
"You must remain focused on your journey to greatness." – Les Brown
"Whoever renders service to many, puts himself in line for greatness." – Jim Rohn
"When you are destined for greatness, it shows in everything you do. It becomes you. Greatness becomes you." – Lorii Myers
"Give yourself permission to step into your greatness." – Dave Gambrill
"Men are only as great as they are kind." – Elbert Hubbard
"Greatness lies not in being strong, but in the right use of strength." – Henry Ward Beecher
"Greatness is a spiritual condition." – Matthew Arnold
"You will become as small as your controlling desire; as great as your dominant aspiration." – James Allen
"Greatness, it's your destiny." – Dr Tony Evans
"Think like a queen. A queen is not afraid to fail. Failure is another steppingstone to greatness." – Oprah Winfrey
"Greatness exists in all of us." – Will Smith
"Great works are performed, not by strength, but by perseverance." – Samuel Johnson
"Great spirits have always encountered violent opposition from mediocre minds." – Albert Einstein
"We shall never resolve the enigma of the relation between the negative foundations of greatness and that greatness itself." – Jean Baudrillard
"Keep away from people who try to belittle your ambitions. Small people always do that, but the really great make you feel that you, too, can become great." – Mark Twain
"Stop at nothing, achieve greatness." – Muscle&Anger
"Great men are not born great, they grow great . . . " – Mario Puzo
"If I cannot do great things, I can do small things in a great way." – Martin Luther King Jr.
"You can be good, or you can be great. Why not strive for greatness." – Roxie Fine
"A great person is one who affects the mind of their generation." – Benjamin Disraeli
"You have greatness within you." – Les Brown
"Some are born great, some achieve greatness, and some have greatness thrust upon them." – William Shakespeare
"We are what we repeatedly do. Greatness then, is not an act, but a habit." – Aristotle
"Great thoughts speak only to the thoughtful mind, but great actions speak to all mankind." – Theodore Roosevelt
"A grateful heart is a beginning of greatness. It is an expression of humility." – James E. Faust
"Sometimes people forget their own greatness." – Jason Mraz
"Creativity means believing you have greatness." – Dr. Wayne W. Dyer
"Your greatness was meant to be shared with the world. Not hidden within yourself." – Robin Sharma
"It is a rough road that leads to the heights of greatness." – Seneca
"I long to accomplish a great and noble task, but it is my chief duty to accomplish small tasks as if they were great and noble." – Helen Keller
"To become truly great, one has to stand with people, not above them." – Charles de Montesquieu
"There are no great men, only great challenges that ordinary men are forced by circumstances to meet." – William F. Halsey
"The only thing standing between me and greatness, is me." – Woddy Allen
"Man is only truly great when he acts from his passions." – Benjamin Disreal
"No one ever achieved greatness by playing it safe." – Harry Gray
"There is a great man who makes every man feel small. But the real great man is the man who makes every man feel great." – Gilbert Keith Chesterton
"Great hope makes great men." – Thomas Fuller
"The greatness of a man is not how much wealth he acquires, but in his integrity and his ability to affect those around him positively." – Bob Marley
"Deeds, not stones, are the true monuments of the great." – John L. Motley
"The first step toward greatness is, to be honest." – Anonymous
"Everybody can be great… because anybody can serve." – Martin Luther King Jr.
"Greatness is not found in possessions, power, position, or prestige. It is discovered in goodness, humility, service and character." – William Arthur Ward
"I used my pain to push me to greatness." – Eric Thomas
"No one has ever achieved greatness without dreams." – Roy Bennett
"We must choose greatness, greatness doesn't choose us." – FreshExchange
"God has planted greatness in you. Let today be the beginning of a great adventure as you step into the gifts he's given you." – Joyce Meyer
"The greatness of a man is not in how much wealth he acquires, but in his integrity and his ability to affect those around him positively." – Bob Marley
"Success isn't always about greatness. It's about consistency. Consistent hard work leads to success. Greatness will come." – Dwayne Johnson
Powerful Quotes to Inspire Greatness
1. Use the greatness within.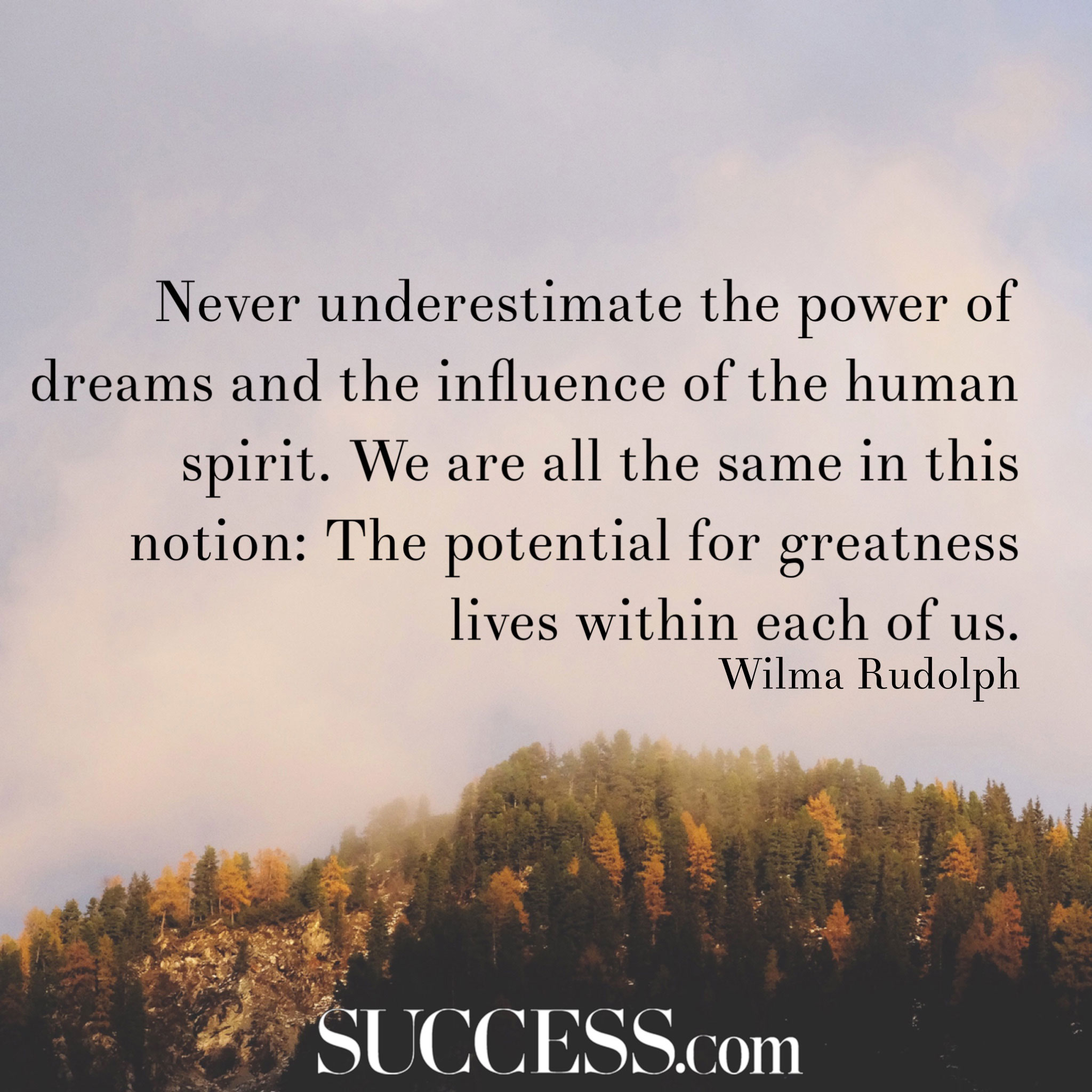 "Never underestimate the power of dreams and the influence of the human spirit. We are all the same in this notion: The potential for greatness lives within each of us." —Wilma Rudolph
2. Live like there's no tomorrow.

"To achieve greatness one should live as if they will never die." —Francois de La Rochefoucauld
3. Make the decision.

"People do not decide to become extraordinary. They decide to accomplish extraordinary things." —Edmund Hillary
4. Find your passion.

"Desire, burning desire, is basic to achieving anything beyond the ordinary." —Joseph B. Wirthlin
5. Use your full capabilities.

"Mediocrity will never do. You are capable of something better." —Gordon B. Hinckley
6. Aim for the stars.

"Always dream and shoot higher than you know you can do. Don't bother just to be better than your contemporaries or predecessors. Try to be better than yourself." —William Faulkner
7. Do your best.

"Always do your best. What you plant now, you will harvest later." —Og Mandino
8. Don't fear greatness.

"Be not afraid of greatness; some are born great, some achieve greatness, and others have greatness thrust upon them." —William Shakespeare
9. Have high expectations for yourself.

"You must expect great things of yourself before you can do them." —Michael Jordan
10. Do without limits.

"Don't limit yourself. Many people limit themselves to what they think they can do. You can go as far as your mind lets you. What you believe, remember, you can achieve." —Mary Kay Ash
11. Take action.

"Great thoughts speak only to the thoughtful mind, but great actions speak to all mankind." —Theodore Roosevelt
12. Look at what you've overcome.

"Greatness is not measured by what a man or woman accomplishes, but by the opposition he or she has overcome to reach his goals." —Dorothy Height
13. Dream big.

"Big dreams create the magic that stir men's souls to greatness." —Bill McCartney
14. Visualize.

"If we cannot see the possibility of greatness, how can we dream it?" —Lee Strasberg
15. Know your worth.

"You were designed for accomplishment, engineered for success, and endowed with the seeds of greatness." —Zig Ziglar
16. Set your mind to it.

"Whatever the mind of man can conceive and believe, it can achieve." —Napoleon Hill
17. Go a step further.

"When you have had a taste of excellence, you cannot go back to mediocrity." —Maximillian Degenerez
18. Chase excellence.

"The secret of living a life of excellence is merely a matter of thinking thoughts of excellence. Really, it's a matter of programming our minds with the kind of information that will set us free." —Charles R. Swindoll
19. Look back.

"No man is truly great who is great only in his lifetime. The test of greatness is the page of history." —William Hazlitt
Greatness Quotes
"Be not afraid of greatness. Some are born great, some achieve greatness, and others have greatness thrust upon them."
― 
Twelfth Night
"Keep away from people who try to belittle your ambitions. Small people always do that, but the really great make you feel that you, too, can become great."
― 
"Great spirits have always encountered violent opposition from mediocre minds."
― 
"Is it so bad, then, to be misunderstood? Pythagoras was misunderstood, and Socrates, and Jesus, and Luther, and Copernicus, and Galileo, and Newton, and every pure and wise spirit that ever took flesh. To be great is to be misunderstood."
― 
Self Reliance
"Always be a first rate version of yourself and not a second rate version of someone else."
― 
"Harry – you're a great wizard, you know."
"I'm not as good as you," said Harry, very embarrassed, as she let go of him.
"Me!" said Hermione. "Books! And cleverness! There are more important things – friendship and bravery and – oh Harry – be careful!"
― 
Harry Potter and the Sorcerer's Stone
"Men have called me mad; but the question is not yet settled, whether madness is or is not the loftiest intelligence– whether much that is glorious– whether all that is profound– does not spring from disease of thought– from moods of mind exalted at the expense of the general intellect."
― 
Complete Tales and Poems
"Simplicity is the keynote of all true elegance."
― 
"A great man is always willing to be little."
― 
"Wherever you find a great man, you will find a great mother or a great wife standing behind him — or so they used to say. It would be interesting to know how many great women have had great fathers and husbands behind them."
― 
Gaudy Night
"Great men are not born great, they grow great . . ."
― 
The Godfather
"You were born with potential.
You were born with goodness and trust. You were born with ideals and dreams. You were born with greatness.
You were born with wings.
You are not meant for crawling, so don't.
You have wings.
Learn to use them and fly."
―